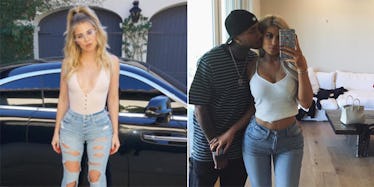 Khloe Kardashian's BF Also Dated Tyga's Ex, So Things Are Even More Confusing
Instagram
HAHAHAHAHAHAHAHAHAHAHAHAHAHA OMG — YOU THOUGHT YOU COULD ESCAPE THE KARDASHIAN FAMILY FUCKWEB?
Whew, sorry, that's just… that's hilarious.
There are roughly nine billion immediate members of the Kardashian family and if you think any of us are not either related to this family OR someone who has dated a member of this family OR (and this is the likeliest scenario) both, you're sorely deluded.
It seems like each time we try to nail down a definitive Kardashian/Jenner/Disick/West/White family tree, another six people are thrown into the mix.
In this case, we're talking about Khloé Kardashian and her new boyf, Cleveland Cavalier Tristan Thompson, but it's far from the first time things have gotten incestuous up in this piece.
There was…
The time Kylie and Tyga had already been dating for months when Tyga's ex and the mother of his child, Blac Chyna, announced her engagement to and pregnancy by Kylie's brother Rob Kardashian.
The time Rob's fiancé, Chyna, ended up being besties with Kim Kardashian West's husband Kanye West's ex Amber Rose.
The time everyone thought, as many still believe, Khloé Kardashian was the secret love child of mom Kris Jenner and family friend OJ Simpson, aka "Uncle OJ."
The time Kendall Jenner revealed her middle name is an homage to OJ Simpson's slain wife and Kris Jenner's once-bestie, Nicole Brown Simpson.
The time Kendall Jenner and bestie Gigi Hadid tried to claim they were half reverse ex-stepsisters once removed through David Foster.
It's like this family is blind to 99.9999999 perfcent of the population. The moment they appear to add someone from outside their fuckweb, we learn every human involved has been in the fuckweb all along.
Case in point: Khloé recently found love with Tristan. Amazing. Fresh meat. Transcendent. A whole new world.
FALSE! He is OLD meat, a whole OLD world! NOT AMAZING!!!
Allow me to explain, before this whole post turns into one long Trump tweet.
According to Hollywood Life, Tristan's ex, Jordan Craig (yes, that Jordan Craig, the one who may very well be pregnant with his child) once dated Chyna's ex and Kylie's current, Tyga!
Here, the Instagram model referenced Tyga's song "1 0f 1" in the caption of her swimsuit pic, posted roughly a year ago.
Those of you already jumping for your calendars can calm the F down.
Chances are slim Jordan's baby belongs to Tyga. Although, if there was ever a commune of tangled arms and legs that could make that unlikely theory a concrete, eating, breathing, pooping reality, it's the Kardashians & Co.
Citations: Khloé Kardashian's Boyfriend & Tyga Have The Same Ex-Girlfriend (Refinery29)