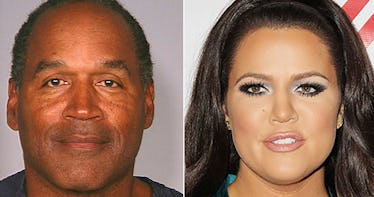 We Analyzed Khloé K's And OJ Simpson's Faces To Put Those Dad Rumors To Rest
REX/Shutterstock
BIG FREAKIN' NEWS. OJ Simpson has allegedly agreed to take a paternity test to see if he's Khloé Kardashian's father.
Daily Mail reports the former football star will take a mouth swab under one condition: He wants Khloé to visit him in prison.
The conspiracy theories surrounding Khloé's relationship to OJ resurfaced when a new documentary about Robert Kardashian was released.
The film, entitled "The Man Who Saved OJ Simpson," aired on Reelz last week. In it, Khloé begs Jeffrey Felix, one of Simpson's prison guards, to do a paternity test to set the record straight.
Below you can see the trailer for "The Man Who Saved OJ Simpson."
So, what does this all mean?
Well, I guess we might finally know the true identity of Khloé's father, even though it's unclear when -- or if -- the test will be taken.
THAT'S COOL, BUT I CAN'T WAIT FOREVER. I think it's time we look into this matter right now.
Therefore, I decided to use some (very unofficial) ~tools~ to analyze the shit out of Khloé's and OJ's faces. In the images below, you can see what I found out.
Let's start with this close-up, side-by-side image of OJ Simpson and Khloé Kardashian.
The photo of OJ is his mugshot from 2007 issued by the Las Vegas Metropolitan Police Department. The photo of Khloé is from 2010 before her drastic weight loss.
Since Khloé's body transformation, there have been rumors accusing her of getting Botox, liposuction and lip injections, even though she's denied getting work done.
Several of Khloé's family members, including Kylie Jenner, Kim Kardashian and Kris Jenner, have admitted to getting facial enhancements, but according to Khloé, she is not one of them.
ANYWAY, when you line up the two photos together, some might say there are similarities. But, I'd like to take this investigation a step further. What happens when I overlay the images on top of each other to create a GIF that morphs their faces into one?
THIS IS WHAT HAPPENS.
All right, now you might see even more of a resemblance.
But of course, Khloé does have Kris Jenner's genes, so let's bring her mother into the equation.
Take a look at what happens when OJ Simpson's and Kris Jenner's faces are morphed together.
Now look at Khloé Kardashian's face next to the image halfway through the transformation.
Hmm, very interesting. Take a step back and really take this all in.
Just to dive a bit deeper, here's a similar GIF using two new photos of OJ and Khloé.
HMMMM, VERY, VERY INTERESTING.
At the end of the day, I'm not a doctor or a scientist or a geneticist or really someone who knows WTF I'm talking about.
I'm just an asshole looking for answers, so, I'll say no more. You be the judge.
Citations: Daily Mail, Khloé Kardashian Plastic Surgery (Huffington Post), Kim Kardashian Botox (Daily Mail), Kris Jenner Plastic Surgery (E! News)