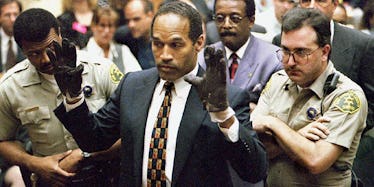 This Is How OJ Simpson Really Felt About 'Keeping Up With The Kardashians'
REUTERS
You can now add "Keeping Up with the Kardashians" to the long list of things OJ Simpson was wrong about.
Among the many revelations that have spilled out of the "O.J.: Made In America" documentary -- a five-part series that is being broadcast all week and has been critically acclaimed as one of ESPN's best works -- comes a small anecdote from the night Simpson set to steal memorabilia that he claimed had been initially stolen from him.
Per the Huffington Post, OJ and Tom Riccio, the man who "goaded" Simpson into attempting the robbery, were watching TV on the night of Sept 13, 2007. An interview with Kim Kardashian was airing on "The Tyra Banks Show" that day. Kim was announcing that her family was set to star in a new reality show.
According to Riccio's account, it's safe to say OJ thought the show would be trash.
Riccio recalled OJ saying,
That's my goddaughter, her name is Kim. That show ain't going to last two weeks.
This anecdote is a reminder of one of the more interesting, trivia-like facts about OJ Simpson's life, particularly at a time when that life is being brilliant dissected and analyzed by ESPN's documentary.
OJ was, in fact, very close to the Kardashians, a fact which is not insignificant in the USC legend's incredibly complex tale. He was Kim's godfather, and Kris Jenner was a close friend of the former football star.
Nicole Brown Simpson and her life as a victim of domestic violence is also examined in this documentary.
OJ was represented by Jenner's ex-husband, Robert Kardashian. Meanwhile, a different documentary raises the question of Khloé Kardashian's relation to OJ Simpson.
So, yeah. It's safe to say that OJ's connection to the Kardashians is pretty important. That connection didn't stop him from throwing shade at their show, though.