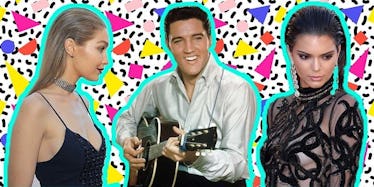 Here's How Kendall Jenner, Gigi Hadid And Elvis Presley Are Related
REX/Shutterstock
So, what do Gigi Hadid, Kendall Jenner and Elvis Presley have in common?
Nothing.
Well, kinda like nothing. Let me explain.
If I were to hold a gun to your head right now and ask you if the Hadids and Jenners are related, you would probably yell, "YES! YES! THEY ARE! WHY ARE YOU DOING THIS THOUGH?!?! WHO ARE YOU?!?!"
But how? How are they related? Aside from occasionally sharing private jets and knowing Kanye's cell phone number, is there anything that actually connects the two families?
*Puts gun back in holster. Everyone in room feels safe again.*
With the amount of infidelity and legendary intercourse parties Hollywood is known for, it's safe to just kind of assume that everyone is connected somehow. It's like one big, gorgeous cesspool, sponsored by Vitamin Water and E!
Everyone is sort of connected, usually by some series of divorces and borderline incestial hookups.
If you think of everyone in Hollywood as a brand (versus an actual person), it's actually not too different from the global business landscape.
Just replace "Unilever" with "Kardashian."
So, of course the Hadids and Jenners are related. They're two industry staples with kids around the same age.
Their connection, though, is loose as hell.
Sure, TECHNICALLY, there is something there. But really, it's nothing.
(This is not unlike everything Johnny Depp has done in the box office over the past five years: HIYO!)
Let's break it down by using this chart I made.
(WRITER'S NOTE: THIS FAMILY IS BUILT ON DIVORCES. HOLLYWOOD IS A DEPRESSING SHELL OF A PLACE. LITERALLY, THERE IS, LIKE, A 1.5:2 RATIO OF PEOPLE'S NAMES TO THE WORD "DIVORCE" ON THIS THING.)
(WRITER'S NOTE #2: I'VE NEVER LOOKED MORE LIKE A PROFESSOR WHO HAS BEEN AWAKE FOR MONTHS, TRYING TO CRACK THE ENIGMA CODE.)
Gigi Hadid
Gigi's father is Mohamed Hadid, an uber successful Jordanian-American real estate developer who lives in LA. He is also a former Olympian who, at 43, competed in speed skating at the 1992 Olympics.
He married model Yolanda Hadid in 1994. The couple divorced in 2000, and a few years later, Yolanda married musician David Foster.
Her marriage to Foster ended in 2015.
Kendall Jenner
Kendall's parents are Kris and former Olympian Caitlyn Jenner. The couple married in 1991.
In 2014, they terminated their marriage, citing irreconcilable differences as the cause.
Years before their marriage, Caitlyn was married to actress Linda Thompson. Their marriage ended in 1986.
The Connection
The link between Gigi and Kendall is that David Foster and Linda Thompson were married for a few years before they ended their relationship in 2005.
Dave Foster is a sort of like an ex-stepdad to Gigi. And if you think THAT'S a stretch, we haven't even begun to cover the relationship between Linda and Kendall.
The issue is that Linda and Caitlyn ended their 'ship before Kendall was born. I spoke to a genealogist and my dad.
He is a lawyer: I wasn't just calling my dad. (Although, there is nothing wrong with that. We should all always be calling our dads.)
So, after a lot of ironing out hypotheticals, the best I can come up with is that Linda is Kendall's reverse ex-stepmom.
This would make Kendall and Gigi half reverse ex-stepsisters once removed.
THIS IS A LEGAL AND BINDING TERM. SO EVERYONE JUST RESPECT IT, OK?!?!
Fun Fact
Linda Thompson and Elvis used to go out, but they broke up in 1976. This makes Elvis Gigi Hadid's grandfather... maybe.
JK! But maybe.
IDK. This is confusing.
BRB, going to accept my MacArthur genius grant now.