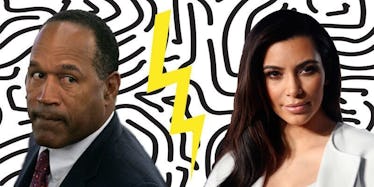 Here Are All The Ways OJ Simpson Is Weirdly Connected To The Kardashians
REX/Shutterstock
There is no odder relationship in Hollywood than the one between OJ Simpson and the Kardashians. It's just effing weird. Their connection is one of those absurd things I'm convinced everyone is at least a little aware of yet doesn't believe to be true whenever they hear someone mention it out loud because it's just so bizarre.
And that's totally fine if you do! You have every right to question their connection. On the surface, the Simpsons and the Kardashians could not be less alike if they tried. It's like finding out the guy who invented Toaster Strudels was married to Marie Curie or something.
On one side, you have the Kardashians, a Kris Jenner puppet-mastered group of people with shared DNA who have slowly morphed into walking sentient lifestyle brands. On the other side, you have OJ Simpson, football royalty whose legacy is tarnished by a murder in Brentwood and an armed robbery in Las Vegas years after his retirement.
But those are just surface achievements. As big as OJ's football career was and as revolutionary as the Kardashians becoming the first family of reality TV is, those are all, at best, tertiary planes they've passed over on their ways to securing a name for themselves in pop-culture history.
What really bond the families is deeper than that -- it involved murder, possibly involves infidelity and goes back YEARS before lip kits, Lamar Odom, "Kocktails With Khloé" and naming your kid "North" were ever a "thing."
In honor of OJ's 69th birthday, I decided to take a look back at this family partnership and break down exactly how the two parties are intertwined. Think of this as the most entertaining possible outcome one could hope for when registering on Ancestry.com. I'm not saying your family's family tree is boring... but I am saying I doubt it had 10-part FX mini-series made after it and involves Johnnie Cochran.
I even made a super dope chart to help you follow along! (That's me.)
The Basics:
Kris Jenner, the mother of Kendall, Kylie, Kim, Kourtney, Khloé and Rob, was at one point best friend's with OJ Simpson's wife, Nicole Brown Simpson (the one who OJ was acquitted of murdering back in 1994).
OJ used to be best friends with Kris' ex-husband -- and father of Kim, Kourtney, Khloé and Rob -- Robert Kardashian. The two were so close, in fact, while OJ was in Kardashian's house after Nicole was murdered he threatened to kill himself with a gun in Kim's room.
Robert Kardashian was also famously part of OJ's defense team alongside Johnnie Cochran, Robert Shapiro, F. Lee Bailey, Alan Dershowitz, Gerald Uelmen and Carl E. Douglas.
After the trial, Kardashian tried to downplay his relationship with OJ, claiming they weren't as close as many speculated they actually were.
The Kardashian-Jenner second generation connection:
Kendall recently admitted her middle name, Nicole, was given to her after Nicole Brown Simpson's death.
She recently spoke about her connection to the name on Kylie's Snapchat.
Yes, Kim, Kourtney, Robert and Khloé probably interacted with the Brown-Simpsons a lot, though probably not as much as "The People Vs. OJ" implied.
Even though Kim allegedly used to call OJ "Uncle," as far as we know they weren't major players in the OJ trial. Nice try, FX.
Also, I doubt this brunch-time crap ever actually happened.
The Konspiracies:
Straight up, there is NO EFFING WAY Khloé Kardashian isn't OJ's daughter.
Yeah, I know. Bombshell. Let's talk this out.
Look at this recent family picture of the Kardashians.
Notice anything interesting about Khloé? How about the fact she's 10 feet taller than anybody in her family? That PROUD mountain of a woman (I can't emphasize enough how much I love Khloé, BTW, none of this comes from anywhere negative) looks like she could Dikembe Mutombo Lamar's ass in a 1-on-1 if she needed to.
Look at Kanye! He's TERRIFIED of being stepped on.
Kris Jenner isn't exactly massive and Robert Kardashian was only 5'7 (Khloé is 5'10), meaning unless that family is hiding some Armenian Sasquatch on their own family tree, Khloé likely got half of her DNA from some other mammoth person.
That mammoth person is likely OJ.
This has been a rumor forever that recently gained some credence after OJ reportedly agreed to a paternity test from prison.
What this means is that if OJ is found to be Khloé's actual dad, OJ will become God-Grandfather (Did I invent this term?) to North West and Penelope Disick as Khloé is both of their godmothers.
Kanye:
This is a Kardashian article. We, of course, need to talk about Kanye, who is aware of all of this info and comically could not care less.
Now that you know all this and how Kanye is married to a woman whose mother used to call a lady that was allegedly murdered by OJ her best friend, listen to this recent vocal cameo Kanye made in"That Part" by ScHoolboy Q.
Yup. At 2:05 that's Kanye saying Kim would become the "female OJ" if she caught him going to a strip club.
Real, klassy.
Hope you guys all enjoyed this lesson. Someone show this to the people at TED talks and ask them to contact me.