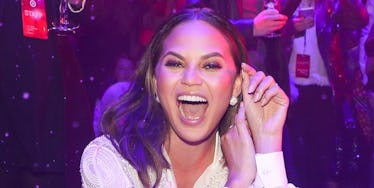 10 Reasons Chrissy Teigen Is The Only Celebrity Who Actually Matters
REX/Shutterstock
From wanting to have that sexy beach body but stuffing your face with cake like there's no tomorrow, to accidentally blurting out dirty jokes on Twitter, we've all been there. And so has Chrissy Teigen.
The sexy supermodel/mama/chef seems to have it all. She's sexy, smart and sassy. She inundates her Snapchat story with videos of her with the dog filter singing to songs with her 1-year-old daughter, Luna.
She dances with crazy hand movements in her booth on "Lip Sync Battle" because people just love to watch her do crazy things.
She's what we would be when we're drunk… except she's sober. And here is a list of why we should all be like Chrissy Teigen:
1. She doesn't care about what other people think.
When Chrissy knows she's sexy, she uploads pictures of her on Instagram in a skimpy bikini. When Chrissy knows she's funny, she tweets all her jokes.
When Chrissy wants to get political, she tells Donald Trump she hates him.
2. She's BFFs with her Mama (aka @pepperthai2 on Instagram).
Some people move out of their parents' home as soon as college ends, but for Chrissy, her mama moved in.
In every Snapchat video of Chrissy, her mom seems to be lurking in the background, from holding baby Luna to cooking a big, fat bowl of Pad Thai. She's always there, and Chrissy absolutely loves her.
John Legend's "All Of Me" is about Chrissy, and he had her star in the video. They're literal #CoupleGoals, and he looks at her with absolute love and devotion.
If your boyfriend isn't writing love songs for you with millions of views on YouTube, maybe he isn't really the one.
4. She falls asleep in the wrong situations (aka the Oscars).
Yep, that's right. Chrissy Teigen actually fell asleep on John Legend's shoulder at the Oscars. If you're feeling sleepy and need a nap, it doesn't matter where you are or who you're with.
Go for it. Be bold. Be brave. Be Chrissy.
5. She eats… a lot.
Oh, did we mention that Chrissy's cookbook, "Cravings," is a New York Times Bestseller? Instead of being filled with recipes for chicken caesar salad or kale juice, it's full of recipes like calorific cinnamon rolls and jalapeño chip-stuffed tuna casserole.
CAN THIS WOMAN DO NO WRONG?
6. She's just plain blunt.
When a hater tweeted saying she did nothing for Lip Sync Battle, she tweeted back, "well say goodbye cause u blocked now, dumb b."
She's upfront if you hate her. She won't try to make you like her. And we absolutely love that about her.
Even though she has voiced her very strong (negative) opinions on Donald Trump, her Instagram bio also says, "making america great again."
When someone tweeted her, "How is Baby Luna?" she replied, "I dunno I can't find her." Chrissy can always crack a joke, no matter how inappropriate.
8. She promotes body positivity and honest dialogues about mental health.
Chrissy's real. We all seem to think celebrities are these mystic goddesses who seem to go back to their size-6 bodies as soon as they've given birth, but for Chrissy, she uploaded a picture of her stretch marks with the caption, "Stretchies say hi!"
She's always promoted healthy body image and wants people to talk about mental health. Recently, she published an article revealing her struggle with postpartum depression with the hopes that it would help mothers everywhere feel like they aren't alone in their struggle.
9. She doesn't take life too seriously.
She's funny. She's quirky. She's fresh. She doesn't care if she makes dad jokes because she's that literal cool mom.
She even uploaded a photo of her broken concealer and wrote, "Oh now my nudes got leaked." Now, if that's not witty, I don't know what it is.
And when John won, and then lost, an Oscar for "La La Land," she spent the entire next day making fun of him. What a woman.c
10. She's also the coolest mom ever.
She posed for Sports Illustrated Magazine a year after the birth of Baby Luna and said she finally felt sexy. She uploaded a picture of an incredible carrot cake and her caption was an entire paragraph about how this carrot cake recipe was actually the best carrot cake.
So, while we can't all be New York Times Bestselling-authors and a sexy mama on the side, we can all try to be.
We all need to be a little bit like Chrissy Teigen to spice up our lives.