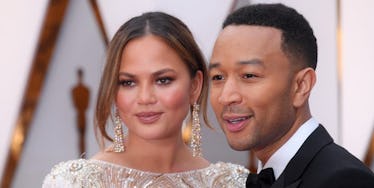 John Legend Speaking On Chrissy Teigen's Postpartum Depression Is So Emotional
REX/Shutterstock
Yet again, John Legend and Chrissy Teigen just proved why they are the definition of couple goals.
Earlier this month, the 31-year-old Teigen penned an extremely powerful letter about her battle with postpartum depression and anxiety.
The Sports Illustrated Swimsuit model wrote the letter as part of Glamour magazine's April cover story.
Speaking on her postpartum depression, Chrissy Teigen wrote,
Getting out of bed to get to set on time was painful. My lower back throbbed; my shoulders — even my wrists — hurt. I didn't have an appetite. I would go two days without a bite of food, and you know how big of a deal food is for me. One thing that really got me was just how short I was with people. I would be in my dressing room, sitting in a robe, getting hair and makeup done, and a crew member would knock on the door and ask: 'Chrissy, do you know the lyrics to this song?' And I would lose it. Or 'Chrissy, do you like these cat ears, or these panda hands?' And I'd be like: 'Whatever you want. I don't care.' They would leave. My eyes would well up, and I would burst into tears. My makeup artist would pat them dry and give me a few minutes.
Now, Teigen's husband, John Legend, is speaking out about the courage his wife showed in going public with her ordeal.
Speaking on his wife's postpartum depression, the 38-year-old singer/songwriter told E! News,
I'm so proud of her. She showed me the drafts when she was writing it and I knew it would mean a lot to a lot of women for them to see that. By acknowledging the pain that she's going through, in doing that she also acknowledges the pain that a lot of women go through after they have a child. A lot of people don't want to talk about it. A lot of people feel alone when they're going through it and for her to let people know that they're not alone, I think was really powerful.
Damn. What would you give to have a relationship half as awesome as Chrissy Teigen and John Legend's?
Speaking on what other men can do to help the women in their life who might be dealing with something similar to what Chrissy Teigen copes with, John Legend said,
You have to be present. You have to be compassionate. You have to understand what the reasons for them feeling what they're feeling are. I think once you know the reasons, I think you can be more helpful in identifying what they're going through.
Hey, if John Legend said it, you know I'm going to do it!
Citations: John Legend "So Proud" of Chrissy Teigen For Going Public About Postpartum Depression: "Really Powerful" (E! News)