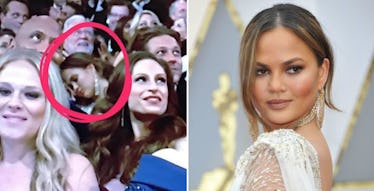 Chrissy Teigen Falling Asleep At The Oscars Is You At Work On Monday Morning
ABC/ REX/Shutterstock
If you stayed up 'til 12:30 am last night to watch the end of the Oscars, you're probably pretty exhausted right now.
I personally found my way into bed around 1:30 am... and now it's 6:30 and I'm writing this.
Yeah, it's been a long night couple of hours.
Working on a Monday morning is always tough. It's hard to keep your eyes open when all you want to do is curl up into a ball and sleep.
Chrissy Teigen probably gets it better than anyone.
At the 89th Academy Awards, the 31-year-old Sports Illustrated model made headlines for taking a quick snooze during the actual show.
While Casey Affleck was making his acceptance speech for Best Actor, the star was spotted sleeping on John Legend's shoulder.
No, I'm not making this up.
"Rock-a-bye baby, in the treetop...
When the wind blows, the cradle will rock...
When the bough breaks, the cradle will fall...
... and down will come baby, cradle and all."
I love her. I love her so much.
Chrissy Teigen looked gorgeous at the Oscars even if she kept her eyelids shut the entire time.
She made her way down the red carpet with John in a beautiful gown and her hair pinned up.
SLAY, CHRISSY. SLAYYYYYYY.
All eyes have been on the "Lip Sync Battle" host at awards shows ever since her infamous "cry face" went viral at the 2015 Golden Globes.
Remember that? Good times!
At this year's Golden Globes, the star stole the show when she popped a squat on the red carpet. Yeah, she literally sat down on the steps and it was legendary.
John Legend, you are one lucky man.
Chrissy hasn't commented on her Oscars nap yet, but I'm pretty positive she'll laugh about it on Twitter soon. She always does, and that's why we love her.
Thanks for making our night, Chrissy!