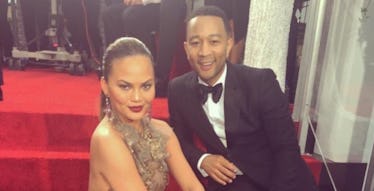 Chrissy Teigen And John Legend DGAF And Sat Down On The Golden Globes Carpet
Twitter
Chrissy Teigen and John Legend just proved they're the best part of the Golden Globes.
While the other stars showed off their gorgeous outfits and spoke with the press, the Sports Illustrated model and her husband decided to sit back, relax and watch the show... from the red carpet.
Yup, Chrissy and John didn't give a fuck and popped a squat on the steps.
It's unclear if Chrissy's feet hurt or if John just wanted a break from the chaos, but the couple took five to chillax right on the red carpet.
Are you obsessed or what?!
At one point, Chrissy Teigen and John Legend even chatted with Ryan Reynolds and Blake Lively. Can you think of a foursome better than that?
In the clip above, you can see Chrissy and John shaking hands with the "Deadpool" actor.
You can also clearly see they're the only two people sitting down while everyone else is walking up and down the carpet.
Twitter went nuts, of course, and dubbed Chrissy Teigen and John Legend the heroes of the night.
Ryan Seacrest even interviewed the couple on the steps because they didn't feel like getting up. CAN YOU TWO ADOPT ME?!
Don't worry though, the lovebirds did take a few cute photos before they got too comfortable.
John looked handsome in a tux and bowtie while Chrissy looked stunning in an embroidered floor-length gown.
While people started to tweet pictures of Chrissy sitting on the Golden Globes steps, others reminisced about the hilarious face she got caught making at last year's ceremony.
Oh yes, remember that? That face turned into one of the biggest memes of all time. God, I love the internet.
It looks like all eyes will be on her tonight to see if she makes any interesting facial expressions on camera.
Have a great night, you two! I hope the seats inside the theater are just as comfy as those steps.