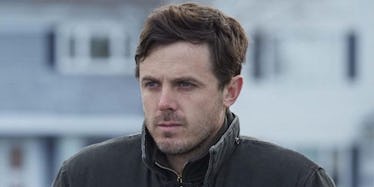 Here's Why People Will Be Pissed If Casey Affleck Wins An Oscar
Roadside Attractions
It's very likely Casey Affleck, the 41-year-old younger brother of Ben Affleck, will, in a matter of days, become Casey Affleck, Academy Award-winning actor.
His role in "Manchester by the Sea" already earned him a Best Actor in a Drama award at the Golden Globes in January. Before that, he nabbed Best Actor at the Critics' Choice Awards and the Palm Springs International Film Festival. Now he's nominated for Best Actor at the Oscars, up against Denzel Washington, Ryan Gosling, Andrew Garfield and Viggo Mortensen.
And, though it's not true every time, generally if you get the CCA and the Globe, it's pretty much smooth sailing to that coveted Best Actor honor from the academy.
This is not a new or outrageous thing. Casey Affleck gave an incredible performance in a depressing drama, and when (white) actors do that, Hollywood tends to reward them.
So why is your Twitter timeline so angry at this guy, then? Why are actors like "Fresh off the Boat's" Constance Wu denouncing the nomination?
Well, the answer to that question is not quite clear-cut.
In short, Casey Affleck was accused of sexual harassment. He settled two lawsuits from female co-workers in 2010.
Thanks to comprehensive write-ups from publications like Mashable, Mic and The Daily Beast, a lot more people know about this now.
But as Affleck barrels closer and closer to his Oscar and shows up more and more in headlines, many are still confused about the controversy surrounding Ben Affleck's younger brother.
Basically, two women sued Affleck for sexual misconduct and harassment.
Polish cinematographer Magdalena Górka and Canadian film producer Amanda White sued Affleck in 2010 for their treatment while working on the mockmentary film "I'm Still Here," which was directed by Affleck and starred Joaquin Phoenix.
It's important to make a distinction here between "sexual harassment" and "sexual assault" because that's one of the ways this controversy has gotten muddled.
Casey Affleck was not accused of rape. In a way, that would be much simpler. The tweets could read "Casey Affleck is a rapist," and everyone would be on the same page about why he shouldn't be celebrated.
That's what happened with Nate Parker, after all.
Instead, the crimes Casey Affleck is accused of are a collection of mostly non-physical (but still abhorrent) lewd behavior toward women.
There was one instance of possible sexual assault.
Magdalena Górka was, for a time, the only woman working on Affleck's film.
According to court documents from her lawsuit, Gorka faced "a nearly daily barrage of sexual comments, innuendo, and unwelcome advances by crew members, within the presence and with the active encouragement of Affleck."
One night, while shooting in New York in 2008, the crew stayed at lead actor Joaquin Phoenix's apartment instead of a hotel. Gorka said Phoenix offered her his private bedroom to sleep in for the night, while he stayed on the couch.
According to Gorka, she woke in the middle of the night with Affleck lying next to her. She described Affleck as "curled up next to her in the bed wearing only his underwear and a T-shirt. He had his arm around her, was caressing her back, his face was within inches of hers and his breath reeked of alcohol."
Gorka does not know whether or not Affleck touched her while she was sleeping, or how long he had been in the bed.
Gorka quit the project immediately following the incident, then returned for a brief period, then quit again.
There was one instance of possible physical abuse.
Amanda White is a female producer hired onto the film after Gorka quit the first time.
In her lawsuit, White accused Affleck of near constant sexual harassment from the first day, including one incident where Affleck grabbed her in a threatening way when she refused to share a hotel room with him.
After she still refused, White said Affleck then sent her texts where he called her "profane names."
There were hundreds of instances of inappropriate comments and name-calling.
White and Gorka both outlined many, many instances of verbal harassment from Affleck in their suits.
White claimed Affleck once ordered a crew member to show her his penis, despite her objections. She said he called women "cows," and frequently talked about his sex life.
She said once she could not get back into her room because Affleck and Phoenix had locked her out to have sex with two women they brought back.
Gorka, who briefly returned to the film after the bed incident because she felt having another woman on the crew would deter Affleck, said the harassment and verbal attacks continued, and quit once again.
After the two women complained, Affleck refused to honor their contracts, and withheld payments and titles on the film credits.
Gorka claimed that to get back at her for quitting, Affleck refused to give her the "Director of Photography" credit on the film she was promised in her contract.
White said Affleck refused to pay her the amount they agreed on, after she complained about his behavior. In fact, when the suit was filed, White said she had yet to be paid for her work on the film at all.
On July 23, 2010, White filed a lawsuit against Affleck. Gorka filed her own suit a week later, for $2.25 million.
When the suits came forward, Affleck denied the accusations, threatened to countersue, but eventually settled.
The exact amount he paid both women to end the cases is not known, but it's rumored to be in the millions.
So, what will it mean if he wins an Oscar?
Hollywood has a rich history of giving very shitty people awards. There is overwhelming evidence Woody Allen raped his daughter, and he has many, many awards, including four Oscars.
That doesn't mean we shouldn't still get mad about it when it happens, but there's an added kicker this year.
This year, there is precedent for a history of sexual crime ruining an artist's shot at the shiny trophy — Nate Parker.
Nate Parker's story is, in many ways, quite different from Affleck's.
It would be dangerous to pretend otherwise, frankly.
Parker — the director, writer, producer and star of "The Birth of a Nation" — was accused of rape.
It sucks that both assault and harassment happen often enough in our culture that we have to rank which one is "worse," but they do, and rape and assault are undoubtedly more severe crimes.
Parker, if the allegations are true, is a clear-cut criminal, while Affleck is much easier to write off as simply an asshole. (Though I think any woman can attest — there's nothing simple or forgivable about being that big of an asshole.)
But the fact remains: "The Birth of a Nation" is a textbook awards show contender, yet has been totally ignored this awards circuit.
"Manchester," on the other hand, skyrocketed to the top, and Affleck's controversy remains a largely unknown, confusing muddle.
So, we're faced with the question we've been faced with many times before...
Should we  — can we — overlook atrocious behavior if the person doing it is making great art?
For Nate Parker, the academy said, "No." For Casey Affleck, it seems very likely it will say, "Yes."
It's hard not to compare the two actors' situations alongside their races: a black man and a white man.
When we live in a country with an infamous history of white men getting rewarded while black men get punished, it would be irresponsible not to do so.
But even deeper than that is a looming thought that Amanda White, Magdalena Górka, Nate Parker's late accuser and so many sexual assault survivors face every day: We are doomed to watch our abusers not just get away with it, but thrive in spite of it.