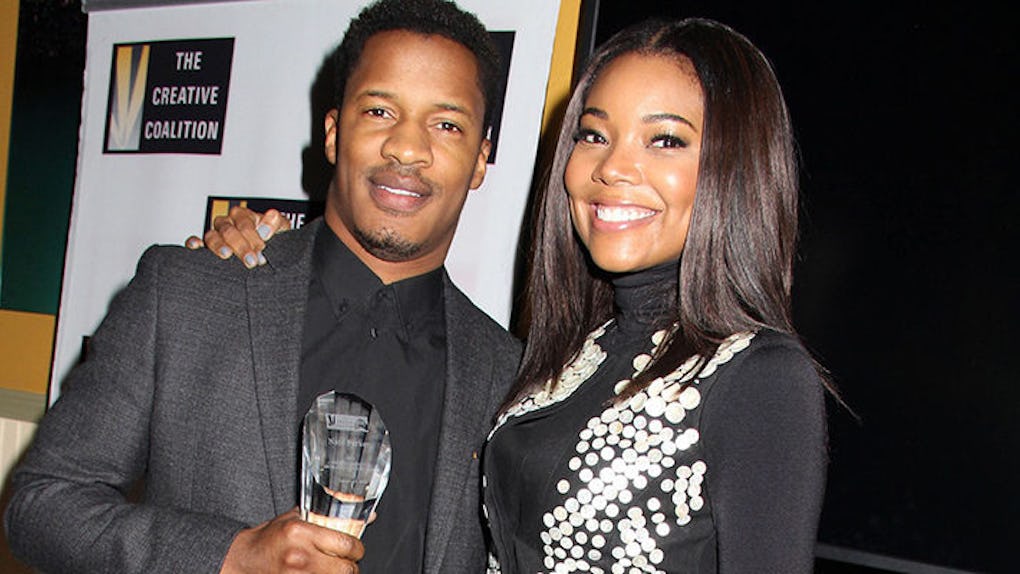 REX/Shutterstock
Gabrielle Union Shares Story Of Her Rape In Powerful Letter On Controversial New Role
In response to a rape-related controversy surrounding the release of her upcoming film, "The Birth of a Nation," Gabrielle Union penned a powerful letter about rape culture and the story of her own assault.
From the beginning, the 43-year-old actress' tone was deafening as she wrote in an op-ed for the LA Times,
Twenty-four years ago I was rape at gunpoint in the cold, dark backroom of the Payless shoe store where I was then working. Two years ago I signed on to a brilliant script called "The Birth of a Nation," to play a woman who was raped. One month ago I was sent a story about Nate Parker, the very talented writer, director and star of this film. Seventeen years ago Nate Parker was accused and acquitted of sexual assault. Four years ago the woman who accused him committed suicide.
Union went on to discuss not only her own story, but also how it affected the way she received Parker's story. Parker and film co-writer Jean Celestin, who were both Penn State wrestlers, were charged in 1999 with raping an 18-year-old woman while they were college students.
Parker was acquitted after proving he had a prior consensual relationship with the woman -- "He got off on a technicality," the victim's brother told Variety -- but Celestin was sentenced to six months in prison.
Seventeen years later, though, with Parker in the spotlight, that story from the past has come back and stained him and his movie. It also put Union in a "state of stomach-churning confusion."
As important and ground-breaking as this film is, I cannot take these allegations lightly. On that night, 17-odd years ago, did Nate have his date's consent? It's very possible he thought he did. Yet by his own admission he did not have verbal affirmation; and even if she never said 'no,' silence certainly does not equal 'yes.'
The background of Parker's film is important here, too. It's undoubtable the high profile of the movie has brought increased scrutiny to its director and star actor, similar to the way "Straight Outta Compton" prompted increased scrutiny of Dr. Dre's history of assault.
Parker's film, based on the infamous slave rebellion of Nat Turner, has been critically acclaimed as both thrilling and poignant. In other words, it's expected to be really, really good.
Even the title in itself is powerful, taking the name of the 1915 film "Birth of a Nation," a popular motion picture that glorified the founding of the Ku Klux Klan.
None of that, however, has protected Parker from criticism. If anything, it's heightened awareness of the director's story. But now, Union says the criticism presents a chance to teach important lessons.
I took this part in this film to talk about sexual violence. To talk about this stain that lives on in our psyches. I know these conversations are uncomfortable and difficult and painful. But they are necessary. Addressing misogyny, toxic masculinity, and rape culture is necessary. Addressing what should and should not be deemed consent is necessary.
Parker's "The Birth of a Nation" will be released on October 7.