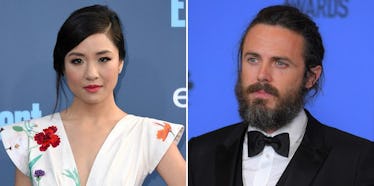 ABC Actress Tears Apart Casey Affleck On Twitter After Oscar Nom Announcement
REX/Shutterstock
Casey Affleck's journey to becoming Academy Award-winning actor Casey Affleck is still going strong, despite his legal history of sexual harassment.
As expected, Affleck won the Golden Globe and, as expected, he was among the list of Oscar nominees for Best Actor on Tuesday for the film "Manchester by the Sea."
It seems Hollywood is willing to overlook the two lawsuits Affleck faced for sexual harassment and misconduct from his female co-workers. (The suits were both settled out of court, with Affleck paying the women an unknown amount to drop the cases.)
But there is one Hollywood star who's speaking out against Affleck: Constance Wu, best known for her role as Jessica on the ABC comedy "Fresh Off the Boat."
In a series of tweets on Wednesday, the 34-year-old actress criticized the Academy for valuing "good acting" over "humanity."
She also called out Affleck for "[buying his] way out of trouble by settling out of court."
Wu tweeted a photograph of a longer essay she wrote explaining why she found the nomination of Affleck so troubling.
She argued art is built around humanity, and therefore humanity should be taken into consideration when honoring art.
She wrote,
He's running for an award that honors a craft whose purpose is examining the dignity of the human experience & young women are deeply human. The absence of awards doesn't diminish a great performance. That's on the page, or screen as it were... and the opportunity to even DO the part is a tremendous honor in and of itself. But the choices an awarding committee makes DOES increase the dignity of an award and brings light to the pursuit our craft seeks to honor. It signifies said committee's awareness of the harmful oversights it may have unknowingly participated in in the past, not repeat it and not to use it as an excuse to reinforce the industry's gross and often hidden mistreatment of women. Art doesn't exist for the sake of awards, but awards DO exist to honor all that art is trying to accomplish in life. So context matters. Because in acting, human life matters. It's why art exists. I'm in this career, not for awards, but because the treatment of human life matters to me. So I stand the fuck up for it.
Wu added she was told not to speak up about Affleck's mistreatment of women, as it would be a bad career move, but did so anyway as a "woman and human first."
I mean... damn. Well said, Constance.
Thank you for putting your career on the line for people everywhere who don't have the same platform as you.
By the way, everyone should really check out "Fresh Off the Boat" Tuesdays at 9 pm on ABC.
Citations: Constance Wu Is Disgusted by Casey Affleck's Oscar Nomination: 'Art Isn't About Humanity, Right?' (Vulture)