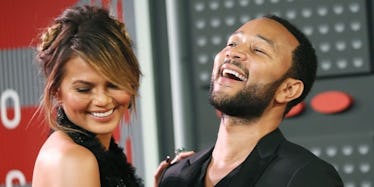 Chrissy Teigen's Spot-On Tweet Proves She Agrees John Legend Looks Like Arthur
REX/Shutterstock
We all have our cartoon doppelgängers whether we like to admit it or not.
Mine for example is Dr. Robotnik from the animated series "Sonic the Hedgehog."
Clearly. Well, I certainly don't have demonic red eyes, but otherwise...
Well, the internet has recently decided John Legend bears a striking resemblance to Arthur from the eponymous children's book series and animated TV show.
Normally, I'd say being compared to this creature is super offensive.
But Arthur looks nothing like an actual aarvark, so I think the resemblance is not that unflattering. At least you don't have demonic red eyes, John!
Well, naturally, Chrissy Teigen had the most spot-on response to this comparison considering the fact she runs the best Twitter account of all time. Period.
There are so many comedic layers to this tweet, it's insane. I'm like Salieri listening to Mozart for the first time when I read this tweet.
Chrissy responded to someone's comparison of her husband to Arthur with an Arthur meme that also implies he really does look like Arthur.
I'm sorry, but just shut Twitter down. It doesn't get any better than this.
Chrissy has continued her Twitter winning streak with some savage take-downs of Trump, an art form she has been perfecting since 2011.
Aside from sending out masterful tweets, she posed for the Sports Illustrated Swimsuit issue and pretty much got completely naked for it.
Basically, Chrissy is a flawless person and despite the fact she does not agree with the notion her marriage with John Legend is "relationship goals," it is.
I would even go further to say Chrissy "Best Twitterer Ever" Teigen is "everything goals."
Needless to say, I think we can all agree this latest tweet definitely proves that.
Now, excuse me while I ponder which cartoon character Chrissy Teigen looks like for the next 24 hours straight.
Citations: Chrissy Teigen Trolling John Legend With The Arthur Meme Is The Best Thing On Twitter Today (Uproxx)