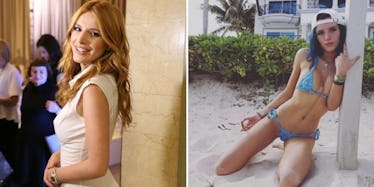 Bella Thorne's New Photo Shoot Proves She's Gone Through A Total Transformation
Rex/Shutterstock, Instagram
Fans of Bella Thorne are already aware the former Disney kid has totally transformed since her days on the Disney Channel series "Shake It Up," and now she's putting her brazen, wild child persona on display for the world to see in a scintillating new photo spread.
I think it's safe to say Disney would not have signed off on this photo shoot! After coming out as bisexual a few months ago, Bella is now on the latest cover of the LGBT+ magazine Out, and she's definitely not shy about showing off her wild and daring new look in the photos.
In fact, I'd go so far as to say that the blue-haired Bella in this spread and the redhead Bella that rose to fame through Disney look like two completely different people!
Before we dive into the Out photos, here's a reminder of what Bella Thorne looked like three years ago, when her signature was her long red hair.
Such a sweet little angel, right? Well, get ready for Bella 2.0!
Over the past year, Bella replaced her once-trademark red locks with bright blue hair, which she describes as Smurf-blue. She's also become a huge fan of showing off her body, which is on full display in her new photo shoot that features the actress in black lingerie and a pink leather jacket.
Hmmm, am I the only one getting total Miley Cyrus vibes from Bella's split-with-Disney-and-embrace-her-inner-wild-child antics? Obviously, the situation looks the same from the outside, but it might be more of an apt comparison than you realize.
Miley has spoken a lot about how she didn't enjoy her time on Disney Channel, and about how she became free to be her true self after "Hannah Montana" ended, and Bella echoes those sentiments in her Out profile. She also says her time on Disney Channel stifled her self-expression.
I was never that proper, sweet girl, but I was so scared to be myself in any way. I became this person I didn't know. Finally, when I got off the channel and started going through my own shit, I got to a point of, 'OK, I know who I am now.'
Bella Thorne is definitely not afraid to be wildly and unapologetically herself nowadays.
The actress has become a tabloid magnet for being so open and frank about her personal life — including opening up about her bisexuality, burning through a good amount of the eligible young men in Hollywood, and recently, brazenly showing off her new nipple piercing.
It's that kind of what-will-she-do-next spontaneity that keeps her fans glued to her social media accounts, trying to guess what hair color she'll be rocking today or what body part she just got pierced.
Citations: Bella Thorne is Nobody's Princess (Out Magazine)