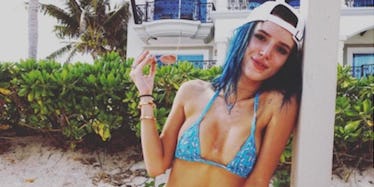 Bella Thorne Channels Her Inner Smurf, Rocks Blue Hair And Matching Tiny Bikini
Instagram
Forget whatever sad Netflix hole you spent your Presidents' Day buried in and live vicariously through Bella Thorne, who is galloping around the beaches of Mexico like an aqua-haired pony of eternal summer.
She posted a pic from her trip to Instagram on Monday, declaring, "The beach is my home."
Our girl also got a chemical peel on what looks like already perfect skin.
Yet who are we to make bold assumptions about her face flesh? We are no one. Ships in the night. That kind of thing.
Bella and pal Kyra Santoro are living our Cancun dreams, all of which are never wearing pants.
It's good to see Bella living carefree after the 2017 she's had thus far.
Last week, the 19-year-old was bullied online by One Direction fans for commenting on Louis Tomlinson's Instagram post.
In January, Bella received death threats on Twitter after musician Charlie Puth threw her under the bus regarding a potential love triangle with him and ex Tyler Posey.
Also, to a lesser dramatic extent, she dyed her hair from red to blue to ring in the new year and, honestly, that can be a stressful transition.
If we as an online society must drag someone, let's go with Bella's ex Gregg Sulkin, who recently compared his cardio routine to the actions of the first responders on September 11.
In a since-deleted tweet, he told followers,
Wow what a workout. Had to run up flights of stairs & all I could think of were the brave firefighters climbing the twin towers on  9/11.
Sure, bud. Those are the same thing. Those are the same thing like the "Armageddon" team's space-drilling mission is the same as me covertly picking crusty boogs out of my nose in a writers' meeting.
Thanks to the permanence of the internet, we'll Never Forget this tweet, Greg. Never.
Citations: Bella Thorne Wears Blue Bikini and Matching Hair in Mexico (Teen Vogue)