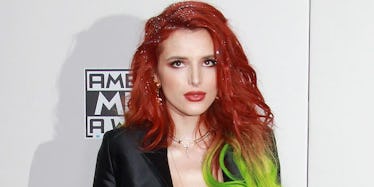 One Direction Fans Are Sending Death Threats To Bella Thorne Over An IG Comment
REX/Shutterstock
You know what would be cool? If One Direction fans didn't send Bella Thorne threats just because she commented on Louis Tomlinson's Instagram.
I don't know, maybe I'm being unreasonable! It was just an idea.
However, a large portion of the One Direction fandom doesn't agree. Here's what happened: On Wednesday, 25-year-old singer Louis Tomlinson posted a photo to Instagram.
(I'm not entirely sure who the girls he's with are, but fans suspect they might be from the up and coming girl group Louis is managing with Simon Cowell.)
Bella Thorne commented on Louis' photo, "awww."
In normal people world, this is a perfectly fine thing to do and no one gets mad at you for it. In One Direction fandom world, you get a barrage of verbal abuse, apparently.
Thousands of fans seemed to think Bella wrote, "Hey, I want to have sex with you and maliciously ruin all your relationships" rather than "awww" on Louis' photo. (Maybe they should get their eyes checked out?)
The comments section of the photo was almost immediately taken over by fans attacking the 19-year-old Disney Channel actress.
The most polite comments told Bella to "leave" or "stay in her lane."
Others veered into slut-shaming territory.
And then some people told her "die."
There it is!
A few fans seemed to realize this was just a tiny bit unreasonable.
But most of the comments were just endless abuse.
Just to reiterate, Bella's crime here was writing "awww" on an Instagram post.
This isn't the first time Bella has faced the wrath of die-hard fans. Back in December, there were all these rumors Bella cheated on "Teen Wolf" star Tyler Posey with Charlie Puth, causing "Teen Wolf" fans to send her angry tweets. And once again, she got death threats.
Of course, it didn't help that Charlie Puth then shoved Bella under the bus of rapid fans with a tweet rant about how he had "no idea" Bella and Tyler were together.
Here's a thought: Maybe we let this teenage girl live her live in peace? Again, just tossing out ideas here!
Citations: One Direction Fans Send Bella Thorne Death Threats After Instagram Comment (Teen Vogue)