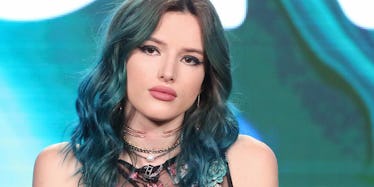 Bella Thorne Got Death Threats In Response To Charlie Puth Cheating Drama
REX/Shutterstock
December was a dramatic month for Bella Thorne.
She broke up with Tyler Posey, was spotted getting beach sexy with Charlie Puth, slipped a nip and shared some TBT Polaroids on Twitter of Tyler that sent Chella shippers into a rage spiral.
Were that not entirely enough, the backlash from the throwback pics sent Charlie on a needlessly dramatic Twitter rant, condemning Bella's shadiness and apologizing to Tyler for allegedly cuckolding him.
Despite the circus of ineptitude that surrounded her, Bella hopped on Twitter and calmly explained she hadn't cheated on anyone, nor were she and Charlie dating.
Now, she's opened up to PEOPLE about how damaging online criticism can feel.
The 19-year-old former Disney Channel star told the site,
It's hard. I was in a happier place [a while ago] than I had been recently… And now I'm back to a happier place… I went through a breakup and that was kind of tough. You know, fans, if you're just seen with somebody, they think you're immediately, you gotta be in a relationship with them. Which is not true. I hang out all the time with different people that I'm not dating, that I'm just friends with. I hang out with a lot of guys because I'm a total tomboy… So a lot of my friends end up being guys because a lot of girls are like kind of too girly for me sometimes.
Regardless of all that problematic gender-stereotyping near the end, there, Bella's right to spend time with friends free of pressure and speculation should indeed be something she maintains some level of control over.
She claimed bullies online sent her "death threats for a hot minute" because they thought she'd cheated on an ex.
In the most Gretchen Wieners-like manner imaginable, Bella added,
It doesn't feel good to think that everybody in the world just thinks you're an absolutely disgusting person and just because I'm somebody where people know my name, it's so much worse for me… People think that we don't get bullied in Hollywood, but we do! We get bullied by the public eye and fans and it's really, let me tell you, it fucking hurts.
Regardless of her assertion bullying is "so much worse" for famous victims, Bella did reach out to young fans suffering in similar situations.
She said,
I'm letting kids know like, 'If somebody's being rude to you, you have the right to stick up for yourself!'
Right on, girl.
Citations: Bella Thorne Says She Received 'Death Threats' After Splitting from an Ex: 'It F—ing Hurts' (PEOPLE)