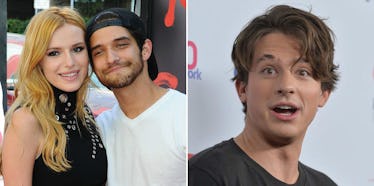 Charlie Puth Goes On Twitter Rant About Bella Thorne Cheating On Tyler Posey
REX/Shutterstock
The whole time Charlie Puth was frolicking down the beach with new bae Bella Thorne last weekend, Twitter rants were probably the furthest thing from his mind.
The singer and his former-Disney-star GF are already venturing into some way, way, super, very awkward territory. Love triangle territory.
I know. I'm excited too.
Following news Bella and Charlie were full-time smooching the night away (Grow up or get out. This is how ADULTS talk about sex and dating), she posted throwback photos featuring ex Tyler Posey.
The pics further complicated the public's perception of her current relationship with Charlie, which was plagued with cheating rumors from the start.
On Wednesday, Charlie appeared to vaguely address the situation with a series of apology tweets addressed to "you know who you are."
Come Thursday, the 25-year-old was ready to expand on the situation, insinuating he was unaware of any infidelity between Bella and Tyler.
He insisted Ty "shouldn't be treated this way," suggesting fans' warnings were valid.
Charlie vowed to "remove [himself]" from this."
Whether "this" referred to Twitter gossip or his actual relationship with Bella remains unclear, but the breezy trip to the beach is over, people.
Bella is not a fan of being judged online by strangers, so her boyfriend jumping in on the conversation can't be a holiday highlight. In October, she told Playboy,
People often don't want to get to know the real you; they only want to get to know the person they think you are. For me, that means people are constantly trying to change me, every second of the day, especially on social media.
Whether "The Duff" actress cheated or not, that seems like an issue for her and Charlie to hash out OFFline, not for the benefit of bloodthirsty followers and shameless media professionals such as myself.
BUT SINCE I'M ALREADY HERE: Leave 'em both, Bella. You can find someone to who will show you the ocean only to turn around and drag you hair-first through the damn sand.
Citations: Charlie Puth Responds To Bella Thorne's Latest Post By Going IN On Her Relationship With Tyler Posey: 'I'm Just Removing Myself From This' (Perez Hilton)