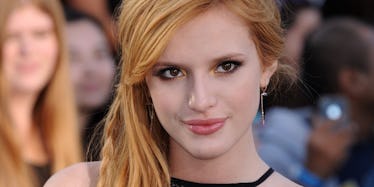 Bella Thorne Wants You To Know She Doesn't GAF If You Think She's 'Too Edgy'
Shutterstock
Through her breakup from boyfriend Gregg Sulkin and her Snapchat post announcing her bisexuality, Bella Thorne's diehard fans have always supported her.
Unfortunately for the former Disney Channel star, the greater chorus of internet haters isn't always as accommodating to young stars attempting to live authentically.
Bella appears in the November 2016 issue of Playboy and, in a No Filter segment shared on the magazine's website, insists the pressure to adhere to others' expectations can be pretty outrageous.
She shared,
People often don't want to get to know the real you; they only want to get to know the person they think you are. For me, that means people are constantly trying to change me, every second of the day, especially on social media.
Bella, who posed in full satiny glory in a jacket by Catherine Fulmer and blue high-waisted pants by Squaresville vintage, isn't heading for a social media blackout anytime soon, though she admits places like Instagram are breeding grounds for intense criticism.
The "Amityville: The Awakening" actress said,
I'm not fed up with social media — I understand it — but people like to comment on how my image is too edgy, that *I'm* too edgy, and on how they wish I looked. It's a lot of 'do this, don't do that.' To them I say, fuck off.
At just 19 years old, Bella has plenty of growing and getting to know herself left to do, so avoiding the influence and toxic opinions of virtual strangers remains a priority to the Florida native.
It can be difficult to get yourself to focus on you all the time, especially when you're trying to transition into who you really are, but I'm not going to change for anybody else. I love staying true to me.
Bells is also hyper-aware of the sexual shame that often plagues young actresses (especially those whose careers were founded in the shadow of two cartoon mouse ears) after they've grown up.
There's this effort to try to shame a woman's sexiness by pulling a cover over it, but I'm a woman who loves skin. I love skin on me, I love skin on girls, I love skin on guys. If you're confident enough to show off your body, you should. Be confident.
Honestly, you don't have to tell me twice, Bell.
Citations: No Filter: Bella Thorne Has a Message For Her Haters on Social Media (Playboy)