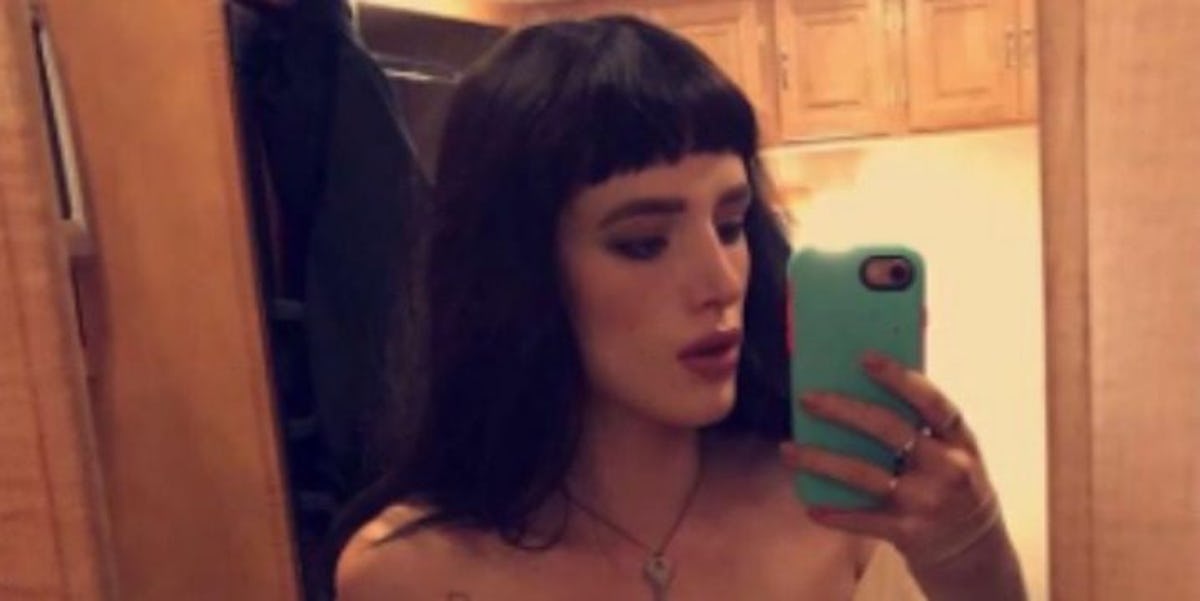 Bella Thorne Shows Off Nipple Piercing In See-Through Shirt On Snapchat
Snapchat
Bella Thorne is more comfortable posting sexy Snapchats and Instagram pics than a bear is hibernating during winter.
From posting pics of her blue Smurf hair to sharing a sexy strip tease video from her Caribbean vacation, the 19-year-old -- 19? -- starlet has seemingly done it all.
Wednesday, Bella Thorne outdid herself, though, when she posted a sexy picture while wearing a see-through shirt and showing off her nipple piercing on Snapchat.
The 19-year-old, who is rumored to be dating Memphis Grizzlies forward Chandler Parsons, took a mirror selfie to show off her nipple piercing, and this snap is hot as hell!
Yeah!
In addition to showing off her see-through shirt and her nipple piercing, it appears Bella Thorne is also sporting a new dark haircut.
Get it, girl!
Speaking on her ever-expanding presence on social media, Bella told Playboy back in October,
I'm not fed up with social media — I understand it — but people like to comment on how my image is too edgy, that *I'm* too edgy, and on how they wish I looked. It's a lot of 'do this, don't do that.' To them I say, fuck off… It can be difficult to get yourself to focus on you all the time, especially when you're trying to transition into who you really are, but I'm not going to change for anybody else. I love staying true to me.
The 19-year-old continued,
It doesn't feel good to think that everybody in the world just thinks you're an absolutely disgusting person and just because I'm somebody where people know my name, it's so much worse for me… People think that we don't get bullied in Hollywood, but we do! We get bullied by the public eye and fans and it's really, let me tell you, it fucking hurts… I'm letting kids know like, 'If somebody's being rude to you, you have the right to stick up for yourself!'
Keep doing your thing, Bella!
Citations: Braless Bella Thorne flashes her nipple piercing in revealing flesh-coloured top as she she debuts Gothic look and choppy hairdo (MailOnline)