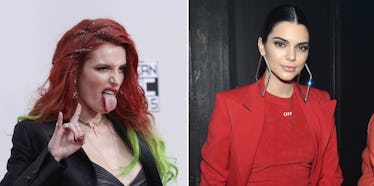 Bella Thorne Basically Confirms She's Dating Kendall Jenner's Ex In Kissing Pic
REX/Shutterstock
If you thought keeping up with the Kardashians was hard, you can just give up now before attempting to keep up with Bella Thorne's love life.
The former Disney Channel star has been on a kick of dating Hollywood heartthrobs this past couple of years that would make even 2010-era Taylor Swift's songwriting hand cramp up.
Just as a refresher, Bella Thorne's two major recent relationships have been with Gregg Sulkin and Tyler Posey, and then there was a bunch of drama a few months ago when she was spotted getting cozy with Charlie Puth, after which she and Posey split.
Then that supposed relationship ended when Puth tweeted his apologies to Posey.
The DRAMA of it all! Anyway, I'm not rehashing all of this as any judgement on Bella — you do you! — just to fill you in on Bella's recent dating game. Honestly, who among us wouldn't be dating as many Hollywood hotties as possible if we were a celebrity??
Well, now it looks like Bella Thorne has a new BF, and it's one who was juuusstttt dating a Kardashian-Jenner.
Thorne was spotted kissing NBA star Chandler Parsons at a nightclub in Mexico a couple weeks back.
To add fire to the dating rumors flame, Bella showed up to Parsons' game on Tuesday sporting his jersey and even painting his number on her face.
A day later, Bella and Chandler went to the movies together to see "Get Out."
The wild thing about this is Chandler Parsons was rumored to be dating Kendall Jenner just about a month ago. The two were hanging out together a lot this January, and wound up sparking some romance rumors.
And Kendall Jenner isn't the only famous lady Chandler Parsons has reportedly dated. Even more recently, he was linked with "Chrisley Knows Best" star Savannah Chrisley, and he dated Christina Perri from 2014 to 2015 (remember that song "Jar of Hearts"?).
Well, it's clear both Bella and Chandler have a solid background in dating celebrities, so maybe they'll be perfect for one another? We'll just have to wait and see.
Citations: CHANDLER PARSONS & BELLA THORNE MOVIE DATE AFTER MEXICO KISS (TMZ)