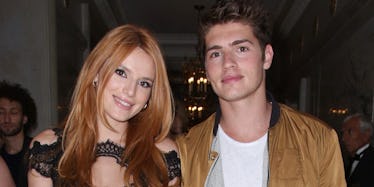 Bella Thorne Shared Detailed Post About Her Ex's 'Nudes' And Twitter Lost It
REX/Shutterstock
If your Twitter is shutting down this morning, blame Bella Thorne -- she shared what looks like nude photos of her ex-boyfriend Gregg Sulkin.
I'm not talking about flexing-semi-naked-in-the-mirror nudes. These nudes are gritty. Like, full view of penis and videos of... DEAR GOD, WHAT AM I WATCHING?!
Okay. Calm.
The tweet originally came from a Twitter account with the name @comproimse. The feed is littered with what appears to be uncensored celebrity nudes.
Let's go in for a closer look, for some context, you know?
But instead of ignoring it like any normal person, Bella Thorne replied to the in-your-face media. She posted,
Haha I'm telling you this isn't greggs dick.
Except, if it isn't, then why even address it in the first place?! Please remember she's 19 years old, which makes this even more uncomfortable. I mean, her parents have access to the internet as well -- what are they even thinking right now?
The bizarre tweet has sent everyone into a major meltdown (a reminder that it's only Wednesday, people).
Some loved it and demanded Bella Thorne cough up further evidence in the form of... MORE NUDES.
Others got catty. Real catty. Honestly, there's no need for this kind of cheap sass.
Then there are those -- like me -- who have dialed 911 to report a serious assault on the eyes. How do you delete things from your memory?
One person issued a stark warning illustrated by a monkey and a gun because the person is obviously in a state of confusion.
MY EYES -- they burn. But why can't I stop looking?
You know, I definitely could have made it through today without the image of what appears to be Gregg Sulkin's penis carved into my mind.
Thanks, Bella. Probs stick to beach pics next time -- please.