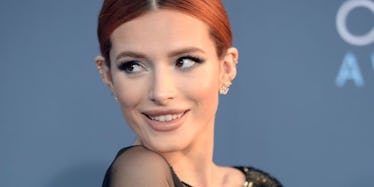 Bella Thorne Posts Topless Pic And Strip Tease Video From Caribbean Vacation
REX/Shutterstock
Bella Thorne is going for a very even tan, people.
She's not about to waste her vacation time collecting a bunch of weird tan lines. TAN LINES ARE FOR AMATEURS.
The former Disney Channel star chilled in the Caribbean with pals and shared a series of carefree pics and videos with Snapchat followers.
In one, she decided to go heavy glitter, light bra.
This classic combination is perfect for summer trips, weddings, funerals and -- depending on your profession -- work!
The trip, courtesy of Celebrity Cruises, was a chance for Bella and her crew to soak up some sunshine, wear some pants and then not wear those same pants.
Bella has a history of employing a DGAF approach to her social media presence, regardless of what critics may say.
In October, the 19-year-old told Playboy,
I'm not fed up with social media — I understand it — but people like to comment on how my image is too edgy, that *I'm* too edgy, and on how they wish I looked. It's a lot of 'do this, don't do that.' To them I say, fuck off... It can be difficult to get yourself to focus on you all the time, especially when you're trying to transition into who you really are, but I'm not going to change for anybody else. I love staying true to me.
Since sharing her goals for authenticity with the magazine, Bella has faced more drama online. Her love triangle with ex Tyler Posey and rumored fling Charlie Puth caused fans to lash out at the actress.
When the drama died down, Bella told People,
It doesn't feel good to think that everybody in the world just thinks you're an absolutely disgusting person and just because I'm somebody where people know my name, it's so much worse for me… People think that we don't get bullied in Hollywood, but we do! We get bullied by the public eye and fans and it's really, let me tell you, it fucking hurts… I'm letting kids know like, 'If somebody's being rude to you, you have the right to stick up for yourself!'
There's no excuse for cyberbullying, kiddos, no matter how much you think Charlie Puth desperately needs your help throwing Bella under the bus (hint: he doesn't).
The time has come to leave Bella to sun her butt on the beach. Deal.
Citations: Bella Thorne Vacation Pics (Bro Bible)