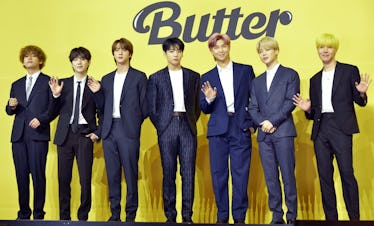 17 Best Moments From BTS' 2020 Memories That'll Make Your Soul Happy
Jimin's no-hands cartwheel in a full-blown suit? Epic.
The Chosunilbo JNS/ImaZinS/Getty Images
BTS' annual Memories DVD, which documents behind-the-scenes footage from the group's biggest moments from the previous year, is always one of their most anticipated releases. Since they accomplish so much within each year, fans love taking a step back to appreciate everything BTS has achieved, from their historic award show wins and placements on the charts to their record-breaking album releases. ARMYs also enjoy seeing the group's behind-the-scenes moments they didn't get to see on social media, like cute interactions between the members during rehearsals. In case you haven't gotten your copy yet, here are the 17 best moments from BTS' 2020 Memories, and there are definitely more moments where these came from (this year's DVD is 11 hours long).
Fans knew BTS' 2020 Memories DVD was going to be unlike any other. Due to the world essentially shutting down, the group's Map of the Soul tour got postponed and they had a lot of performances without ARMYs in attendance. Despite everything that happened, they still made the year one to remember. BTS held virtual concerts, filmed livestreams, and was active on social media more than ever to stay connected with fans. They also shot three of their singles to No. 1 on the Billboard Hot 100 and earned their first Grammy nomination. Not to mention, Suga finally dropped his long-awaited second mixtape, D-2, in 2020.
BTS' latest Memories DVD allows fans to relive these moments all over again. Since the project features so much content, check out the highlights of BTS' 2020 Memories DVD below.
Now that you've seen the best moments from BTS' 2020 Memories DVD, you're probably wondering where you can purchase a copy. It's easy because all you have to do is buy it from the group's official Weverse Shop!