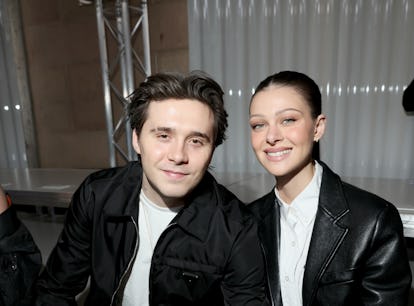 You Have To See Brooklyn's Huge Tattoo Of Nicola's Face To Believe It
It's certainly... something.
Victor Boyko/Getty Images Entertainment/Getty Images
Brooklyn Beckham isn't exactly a stranger to the tattoo shop, especially when it comes to getting ink dedicated to his wife, Nicola Peltz. But his latest tattoo is definitely his boldest yet... and it hasn't exactly been well-received on social media. Here's why Brooklyn Beckham's massive new tattoo of Nicola Peltz's face has some people cringing.
Peltz isn't just a huge part of Beckham's life, she also takes up most of the real estate on her husband's body. Beckham has shared that he's gotten over 70 tattoos that are all tributes to his wife, and some of them are pretty huge. For instance, he has Peltz's eyes and an intimate love letter to her tattooed to the back of his neck and upper back, and a tattoo of his wedding vows takes up the entire inside of his right bicep. And Beckham is still finding places on his skin to cover in lovey-dovey artwork. While appearing on The Jennifer Hudson Show on March 23, Beckham revealed his most audacious tattoo yet: a portrait of Peltz's face that takes up the bulk of his upper right arm. Next to the photographic ink, Beckham revealed he also got the lyrics to the song he and Peltz walked down the aisle to at their wedding tattooed.
The grandiose gesture may have a sweet meaning behind it, but people online weren't exactly impressed by the artistry of the portrait tattoo. Social media users wasted no time in clowning the ink.
So, not everyone is a fan of the latest addition to Beckham's body-wide shrine to Peltz, but that probably won't stop him from continuing to cover his skin in romantic tributes to their love.
And Peltz isn't the only special lady in Beckham's life recently. After showing off his tattoo on The Jennifer Hudson Show, Beckham went on to talk about his and Peltz's recent friendship with Selena Gomez. The three have been super tight ever since they rang in 2023 together at a luxurious New Year's Eve party, with Gomez joking they were a throuple. Beckham continued the joke by once again calling the three of them a throuple, noting that Gomez is "a very sweet girl" and they "all get along." In fact, they get along so well they got matching tattoos, which, if it wasn't already very clear, is definitely Beckham and Peltz's love language.