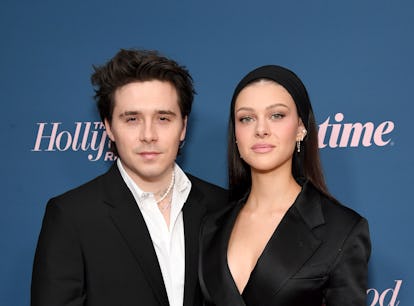 Brooklyn Peltz-Beckham's Birthday Instagram For Nicola Had A Twist
It included an appearance from... Selena Gomez's little sister?
Jon Kopaloff/Getty Images Entertainment/Getty Images
For Nicola Peltz-Beckham's birthday on Jan. 9, her husband Brooklyn posted twice, each Instagram caption more verbose than the next. For the first birthday post, Brooklyn shared a video montage of their relationship — plus, a few BTS moments from the Peltz-Beckham wedding. However, in his second IG for his wife, things were not quite so predictable. In a carousel of photos, he dedicated one of the three pictures to Selena Gomez's little sister, Gracie.
"Happy birthday to my better half xx I hope you had the most amazing birthday xx I love you more than anything xx ❤️❤️❤️❤️," Brooklyn wrote, alongside photos of him, Nicola, and Gracie. No further explanation was given. However, Nicola didn't seem to mind that Brooklyn included 9-year-old Gracie in the birthday tribute. "Omg 🥹🥹❤️❤️❤️❤️ and 2nd pic 😭😭😭 @selenagomez," she commented on the post.
The rest of the commenters were more befuddled by the post. "happy birthday to my wife here's a pic of me and Selena Gomez's sister 😂," one commented, before adding, "I think they're milking Selena for all it's worth lol." Another wrote, "Awww brooklyn and gracie. Anyway, happy birthday nicola💖." One comment seemed to sum up the majority of people's responses to the post: "Weird huh???"
It was definitely a different approach to the classic birthday post, but then again, Brooklyn posted twice to celebrate his wife's big day. Earlier that day, he wrote a lengthier caption (sans any mention of Selena Gomez or her family). "Happy birthday Nicola xx From the moment I laid my eyes on you I thought you were the most gorgeous girl I've ever seen and since then I'm still trying to figure out how your [sic] mine xx," he wrote. "I love you so so much baby and I hope you have the most amazing day because you deserve it xx love you ❤️."
Selena does have a close relationship with the couple — even joking that people call them a "throuple." Apparently, her sister has a close bond to the couple, too. On Jan. 8, Selena shared a photo of her and Gracie kissing Nicola's cheeks. "It's not your bday yet but let's celebrate NOW!" Gomez captioned the post. Nicola replied, "Omg my sisters!! 💖💖💖🥹🥹."
Here's hoping someone showed Gracie Brooklyn's post — I don't think most 9-year-olds have Instagram.