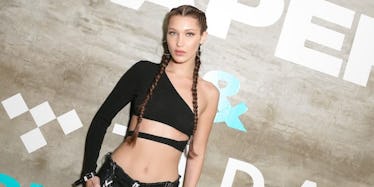 Bella Hadid Sits On The Lap Of The Guy She Previously Kissed With No Pants On
REX/Shutterstock
Pants? Where we're going, we don't need pants.
Not only was Bella Hadid caught kissing fashion designer Riccardo Tisci...
...she just posed for a photo with him while sitting on his lap wearing no pants at all.
Before you say a prayer for The Weeknd, who must be experiencing incredible amounts of jealousy at this time despite his new relationship with Selena Gomez, know this was picture was taken for Riccardo's recent collaboration with Nike Lab.
However, what's not so obvious is whether or not Bella is even wearing underwear in this picture. A bra? Yes. Sneakers? Sure. Underwear?
Well, if there's anyway to show your ex what they're missing, it's posing for an Instagram pic sans your undies (although my Insta photos of me not wearing any underwear have just gotten flagged for "violating community guidelines," whatever that means).
Bella recently has been wearing tons of see-through dresses ever since the drama with Selena began after pictures revealing Gomez and the Weeknd's makeout session behind a dumpster (so romantic).
Coincidence? I certainly think not.
While the new couple have taken their love to Italy and become Instagram official, Bella has since unfollowed Selena on the social media site and has apparently claimed Gomez is "using" The Weeknd.
Basically, it's an all out war between Bella and Selena. Soon, the entire entertainment industry will be forced to take sides in the Great Hadid-Gomez Civil War Of 2017.
Whether you're on Team Bella or Team Selena, I think we can all agree the Hadid and Gomez's shared friend circle has become problematic in the wake of recent events.
Thankfully, we've constructed a chart to help you figure out to whom each celebrity might owe their allegiance.
Time will tell whether or not Bella and Selena can reconcile, but for right now, their diplomatic relations seem tense AF.
Citations: Bella Hadid Wears Only a Sports Bra in New Nike Campaign, Gives Gigi Some Pantsless Competition (People)