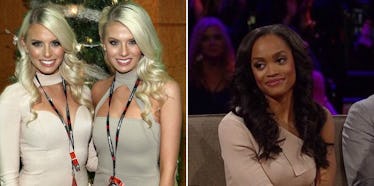 Twins Emily And Haley Share Top Picks For Rachel's 'Bachelorette' Season – EXCLUSIVE
Getty Images/ABC
No one knows how The Bachelor or The Bachelorette works better than twins Emily and Haley Ferguson.
The 24-year-old sisters first appeared on Ben Higgins' season in 2016, but since their time on the show they've been to Paradise and even started their own spin-off series.
Elite Daily had the chance to speak with Emily and Haley Ferguson exclusively at Radio Row in Las Vegas, Nevada, on Saturday, May 20, to talk about the upcoming season.
Since Rachel Lindsay's journey to find love premieres on Monday, May 22, I asked Emily and Haley to share their opinions on the new season so far.
When asked about their plans to watch the show on Monday, the twins told me,
We're absolutely excited for 'The Bachelorette' coming up on Monday... we're really excited to watch Rachel's season because I heard she's gonna have a really, really good season and her guys are gonna be good.
Chris Harrison actually revealed the cast for season 13 on May 17 on Facebook Live. Emily and Haley said they watched a little bit, but already know who their favorites are:
There are so many guys, I can't listen to everything... but I know he did the top 5 guys and definitely there are a few hot ones like Dean -- he's really hot.
Dean is a 26-year-old startup recruiter who loves hot Cheetos, mint chocolate chip ice cream and Oreos. His Bachelorette profile makes him sound like a total catch, so I can't blame these ladies for being interested in him.
Emily and Haley both agreed Bryan, the 37-year-old chiropractor, was also one of their top picks. They explained,
The one who is supposed to be the villain -- wait, I don't know if he's supposed to be the villain, but the chiropractor -- Bryan, I think. I think he's very handsome and he's someone to watch.
It hasn't been confirmed yet if Bryan is this season's Chad Johnson, but rumor has it the contestant will stir up drama. Guess we'll have to wait and see!
I asked Emily and Haley to also comment on the more... err, interesting contestants... like Jonathan the "Tickle Monster" and Lucas the "Professional Whaboom."
The twins said they were "excited to see the job titles" and thought the Whaboom guy "must think he's a superhero." I think that's a pretty fair assumption, considering I don't know WTF else it could mean?!
Last but not least, I asked Emily and Haley what advice they would give Rachel Lindsay as she begins her search to find a soulmate:
Just be open to every opportunity because you never know who you could end up liking... she might totally pick somebody that nobody would expect. Even just going into Paradise, you just have to keep your options open and have an open mind and not just fall in love with the first person that you meet because you really need to get to know every single one of these guys and take the time to get to know every single one.
Of course, Rachel did already finish filming and confirmed she's engaged... but hopefully she took this advice. As for Emily and Haley? Well, they're just trying to go on vacation.
We just finished filming for The Twins: Happily Ever After? and our finale just aired last Monday so we're just kind of taking it easy... We've been so busy... we love being home with our mom and our family and friends and hopefully a vacation to Hawaii soon. We're trying to go to the beach! We've never been to Hawaii -- we haven't been on a vacation-vacation in a while. We've just been traveling and working a ton.
You know who else wants to go to Hawaii? Contestant Dean, according to his Bachelorette profile. WINK, WINK.
Enjoy your vacation, ladies! And everyone else: Be sure to follow Elite Daily on Snapchat (EliteDailySnap), Twitter and Facebook for live coverage of The Bachelorette premiere.