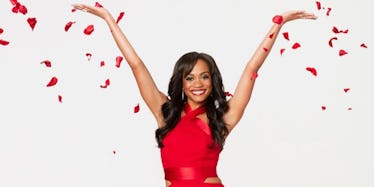 'Bachelorette' Rachel Confirms She's Engaged: "I Am Very Much In Love"
Getty
No surprises this time around: It turns out Rachel Lindsay actually does find love at the end of this season of The Bachelorette!
The new rose-distributor confirmed on Thursday she is currently engaged to a man she loves following the filming of her season of the show.
Rachel told the world the good news in a press call, reports People, in which she gushed about her new fiancé without giving away any names.
I am very much so in love and very much so engaged... I am getting my happy ending!
Aww, good for you, girl! After being strung along by Nick Viall on the last season of The Bachelor, it's nice to know the reality show actually pulled through for Rachel this time and found her the man of her dreams.
Now all that's left for us to ponder is who that man is. ABC finally revealed the 31 men who will be competing for Rachel's heart this season of The Bachelorette earlier this week, so we can start speculating as to who is lucky enough to get Rachel to say "yes" to a proposal.
The only guys I'm sure (or at least am really hopeful) aren't in the running are Jonathan (pictured above), who described himself as a "tickle monster" in his bio, and Lucas, who just nonsensically described himself as "Whaboom," whatever that means.
I'm also hating on the particularly pretentious-sounding bio from Jamey, who loves to read The Power Of The Subconscious Mind while blasting EDM, and claims to have no female friends. I'm praying he's one of the first guys that Rachel kicks out.
Given the penchant for finale shockers from The Bachelor franchise, it's nice to know there will definitely be a proposal at the end of this new season, which premieres this Monday night on ABC.
Citations: Bachelorette Star Rachel Lindsay Is Engaged! 'I Am Getting My Happy Ending' (People)