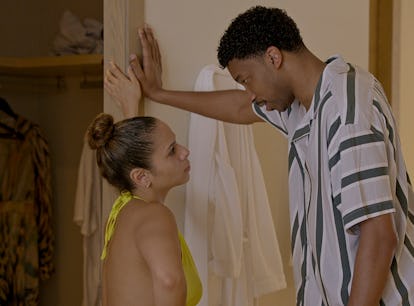 Lydia & Milton Are Facing A New Relationship Issue After Love Is Blind
Can they truly go the distance?
Netflix
Spoiler alert: This post discusses the Love Is Blind Season 5 finale and reunion.
Love Is Blind hasn't always had the best track record for happy marriages, but Season 5 was a new low on that front. After multiple breakups and unhinged drama, only one couple actually made it out of the season with a pair of wedding rings. Milton and Lydia may have gotten their dream wedding, but did their marriage hold up in the year since the ceremony was filmed? Here's what we know about their current relationship status.
Lydia and Milton's wedding was a nail-biter through and through. They both had some serious reservations about whether or not to go through with it on the day of the nuptials, but in the end, the hot-and-cold couple managed to make it down the aisle and say "I do" to one another.
But the story doesn't end there. At the reunion, Milton and Lydia revealed that their marriage has been able to survive the nearly year and a half since their wedding. The show even played a montage of all Lydia and Milton's romantic moments in their new married life.
However, their marriage was put to a serious test after the reunion. Lydia revealed in an interview with Entertainment Weekly that she and her husband are not currently living together... or even in the same state. "He just got relocated to Long Beach actually," Lydia said, revealing Milton is no living in California while she's still based in Houston, Texas.
Despite the long-distance struggle, Lydia said she and Milton are still going strong.
"The challenge is just traveling in airports, I hate airports so much, but besides that, it's been amazing," Lydia said. "We really miss each other and it just makes you even love each other more. It's so good to have him here when you come from work instead of being alone."
Thankfully, Lydia and Milton are well-versed in dealing with any type of relationship issue thanks to Love Is Blind. To say they dealt with non-stop drama throughout their relationship would be an understatement. Initially, Lydia was gravitating towards Izzy in the pods, but when he shut things down with her, she shifted all of her attention on Milton.
She was thrown off by their seven-year age gap at first, but developed a connection based on their shared passion for geology and goofy senses of humor. However, once the truth came out that Lydia had dated fellow contestant Uche prior to the show, the floodgates opened.
Lydia and Milton still got engaged, but constantly argued over the polar-opposite ways they handle conflict. As Uche continued to reveal unflattering details about how Lydia acted in his relationship with her, Lydia aggressively fought back, while Milton seemed totally unfazed and nonchalant about the messy situation.
But it's clear that these differences only made their romance even stronger. And now they're conquering one more obstacle by keeping their love alive despite long-distance.
This article was originally published on