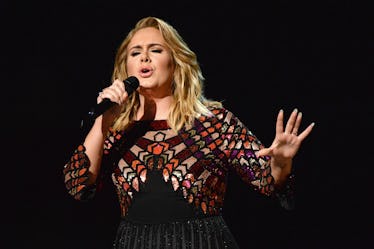 35 Of Adele's Best 30 Lyrics For IG Captions To Express Your Breakup Blues
"I'll be taking flowers to the cemetery of my heart."
Kevin Mazur/Getty Images Entertainment/Getty Images
Adele is back! On Friday, Nov. 19, the star dropped her fourth studio album, 30, featuring her lead single "Easy On Me." The track was a huge hit, having gone No. 1 on the Billboard Hot 100 following its release on Oct. 15. It also broke numerous records, like becoming the most-streamed song on Spotify in 24 hours. Adele previewed some of her other new tracks on 30 during her One Night Only CBS concert special on Nov. 14. And now that her full project is officially out, here are Adele's best lyrics for Instagram captions to express your breakup blues.
During an Oct. 7 Vogue interview, Adele revealed 30 is her most personal album yet. "It's sensitive for me, this record, just in how much I love it," she said. "I always say that 21 doesn't belong to me anymore. Everyone else took it into their hearts so much. I'm not letting go of this one. This is my album. I want to share myself with everyone, but I don't think I'll ever let this one go."
When a fan asked her during an Oct. 10 Instagram Live what her album will be about, Adele replied, "Divorce, baby, divorce!" hinting she would open up about her split from her ex-husband, Simon Konecki. On Nov. 19, she finally unveiled 30, and fans instantly became a mess after listening to each emotional track, especially "I Drink Wine" and her love letter to her son, "My Little Love."
Below, you'll find Adele's deepest lyrics that make for great Instagram captions.
"I know there is hope in these waters but I can't bring myself to swim." — From "Easy On Me"
"There ain't no room for things to change when we are both so deeply stuck in our ways." — From "Easy On Me"
"I had good intentions and the highest hopes but I know right now it probably doesn't even show." — From "Easy On Me"
"We're in love with the world, but the world just wants to bring us down." — From "I Drink Wine"
"I hope in time we both will find peace of mind / Sometimes the road less traveled is the road best left behind." — From "I Drink Wine"
"Sometimes loneliness is the only rest we get and the emptiness actually lets us forget." — From "Hold On"
"To be loved and love at the highest count means to lose all the things I can't live without." — From "To Be Loved"
"My heart speaks in puzzles and codes I've been trying my whole life to solve." — From "Love Is A Game"
"Love is a game for fools to play." — From "Love Is A Game"
"I'll be taking flowers to the cemetery of my heart / For all of my lovers in the present and in the dark." — From "Strangers By Nature"
"Every anniversary I'll pay respects and say I'm sorry / For they never stood a chance as if they could / When no one knows what it's like to be us." — From "Strangers By Nature"
"I don't recognize myself in the coldness of the daylight." — From "My Little Love"
"When I walk in a room I'm invisible, I feel like a ghost" — From "Cry Your Heart Out"
"I can't get no relief, I'm so tired of myself, I swear I'm dead in the eyes. I have nothing to feel no more, I can't even cry." — From "Cry Your Heart Out"
"When will I begin to feel like me again? I'm hanging on by a thread. My skin's paper thin, I can't stop wavering, I've never been more scared." — From "Cry Your Heart Out"
"I'd rather be a fool than leave myself behind, I don't have to explain myself to you, I am a grown woman and I do what I want to do." — From "Oh My God"
"I know that it's wrong, but I want to have fun." — From "Oh My God"
"The sight of you is dramatic, one glimpse and I panic inside." — From "All Night Parking (with Erroll Garner) Interlude"
"You're driving me away, give me a reason to stay." — From "Woman Like Me"
How can you not see, just how good for you I am?" — From "Woman Like Me"
"You ain't ever had, ain't ever had a woman like me." — From "Woman Like Me"
"It is so sad a man like you could be so lazy." — From "Woman Like Me"
"You are still strong, love will come soon." — From "Hold On"
"It's hard to hold onto who I am, when I'm stumbling in the dark for a hand." — From "Hold On"
"I am so tired of battling myself with no chance to win." — From "Hold On"
"I swear to God I am such a mess." — From "Hold On"
"Every day feels like the road I'm on might just open up and swallow me whole." — From "Hold On"
"How do I feel so mighty small when I'm struggling to feel at all?" — From "Hold On"
"I was so young that it was hard to know." — From "To Be Loved"
"I'm as lost now as I was back then." — From "To Be Loved"
"I'm so afraid, but I'm open wide." — From "To Be Loved"
"All of your expectations of my love are impossible." — From "Love Is A Game"
"Surely you know that I'm not easy to hold." — From "Love Is A Game"
"My heart speaks in puzzle and codes." — From "Love Is A Game"
"Love is a game for fools to play." — From "Love Is A Game"