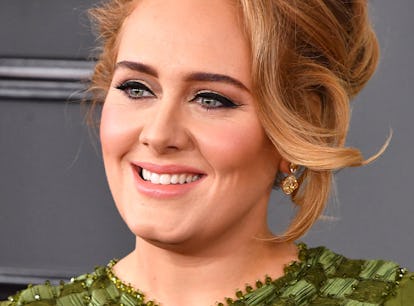 Adele's 30 Tracklist Includes Songs Like "I Drink Wine" And "Can I Get It"
Steve Granitz/WireImage/Getty Images
Adele stans, get ready to find your next favorite sad bop because it looks like the singer is about to deliver. It's been six years since the star released her previous album, 25, and although it's been a long wait for new music, the wait is almost over. Adele has finally set an official release date for the album, and it will be here before you know it. Plus, from the sounds of it, it could be her most emotional album yet. The imagery she's released so far has been beyond beautiful, and it has fans more excited than ever to hear what she's cooked up. Now, the tracklist for Adele's forthcoming album has been revealed, and fans are in for an emotional ride.
While Adele was initially cryptic about when her new album will arrive, she didn't hold back in explaining what the album will entail. As she told Vogue in her October 2021 cover story, it's her most personal collection of songs yet. "It's sensitive for me, this record, just in how much I love it," Adele said. "I always say that 21 doesn't belong to me anymore. Everyone else took it into their hearts so much. I'm not letting go of this one. This is my album. I want to share myself with everyone, but I don't think I'll ever let this one go."
So, what makes it such a sensitive record? In September 2019, Adele filed for divorce from her husband, Simon Konecki, and the album will largely touch upon dealing with that as well as navigating the divorce with her son, Angelo, she told Vogue.
Adele's previous albums have used the traditional age format for her titles, so 30 would be the perfect follow-up to 25, and her other two albums, 2011's 21 and her debut 2008 record, 19. Here's everything you need to know about Adele's 30, including when, exactly, it will arrive.
Adele's 30 Tracklist
After releasing her single called "Easy On Me," fans couldn't wait to hear the full tracklist titles, and rightfully so. Per Variety, the tracklist was revealed on Nov. 1 via Target's exclusive CD listing. Every single title is SO. GOOD. Take a look for yourself:
1. "Strangers by Nature"
2. "Easy On Me"
3. "My Little Love"
4. "Cry Your Heart Out"
5. "Oh My God"
6. "Can I Get It"
7. "I Drink Wine"
8. "All Night Parking (With Erroll Garner) Interlude"
9. "Woman Like Me"
10. "Hold On"
11. "To Be Loved"
12. "Love Is a Game"
Bonus Tracks:
13. "Wild Wild West"
14. "Can't Be Together"
15. "Easy On Me" (With Chris Stapleton)
On Tuesday, Oct. 5, the star shared a 30-second teaser for her new song on YouTube that featured the opening piano chords of the track, hinting it would be an emotional ballad. In the black and white clip, Adele could also be seen driving around the countryside in an old car.
The video also included the "Easy On Me" release date: Friday, Oct. 15. The official cover art for the track arrived on Oct. 12, and showed Adele looking off into the distance in a black-and-white snapshot.
Adele's fans were quick to point out the cover art looked strikingly similar to that of her previously-released song "Someone Like You."
Adele released "Someone Like You" in 2011, and fans think her new single is the new iteration of it. Of course, only time will tell.
On Oct. 9, Adele surprised fans with a sneak peek at the lead single during an Instagram Live. She played what sounds like the entire first verse of the song, cutting it off just before the chorus.
In addition to exploring her divorce, Adele includes one song about her son, Angelo, on the record. As she told Vogue, music was a chance to explain the divorce to him in a way she couldn't through words. "He has so many simple questions for me that I can't answer, because I don't know the answer," she said. "Like, Why can't we still live together? That's just not what people do when they get divorced. But why not? I'm like, I don't fucking know. That's not what society does. And: Why don't you love my dad anymore? And I'd be like, I do love your dad. I'm just not in love. I can't make that make sense to a nine-year-old."
Adele's 30 Album Release Date
On Oct. 13, Adele confirmed her album will arrive on Nov. 19. The singer shared a lengthy statement about her forthcoming record as part of the release date reveal.
"I've learned a lot of blistering truths about myself along the way," she wrote in one part of her post. "I've shed many layers but also wrapped myself if new ones. Discovered genuinely useful and wholesome mentalities to lead with, and I feel like I've finally found my feeling again. I'd go so far as to say that I've never felt more peaceful in my life. And so, I'm ready to finally put this album out."
Adele's 30 Features
What's actually on her album is up for debate right now, but excited fans even trended a fake tracklist on Twitter in late September. True stans immediately called it a fake list since it included a ton of featured artists, which Adele has historically avoided.
However, fans got excited about the imaginative list, which paired Adele with artists like Ariana Grande, Elton John, and Beyoncé. It seems uncharacteristic for Adele, but she has openly expressed her support and love of Beyoncé in the past, including in an Instagram post in August 2020, so could fans be getting the ultimate duet track?
You'll need to stay tuned for more info on Adele's 30 album. Meanwhile, fingers crossed that a November 2021 release is true.
This article was originally published on