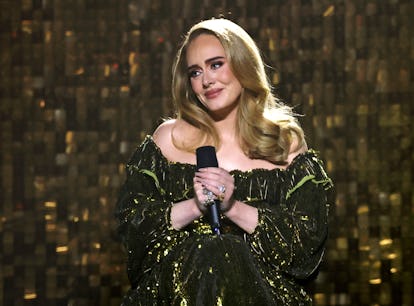 Adele Wrote This Part Of "Easy On Me" In The Shower
David M. Benett/Getty Images Entertainment/Getty Images
After taking a six-year music hiatus, Adele returned with her single "Easy On Me" in October 2021. The song perfectly described what it's like to move on from a devastating breakup. If you're wondering what the deeper meaning behind Adele's "Easy On Me" lyrics is, grab some tissues because it's heartbreak central.
The singer teased her new music in an October 2021 interview with Vogue. She told the publication her son, Angelo, helped inspire the theme of her upcoming fourth studio album, 30. "I wanted to explain to him through this record, when he's in his twenties or thirties, who I am and why I voluntarily chose to dismantle his entire life in the pursuit of my own happiness," Adele said, hinting her album references her split from her ex-husband, Simon Konecki. During an Instagram Live that month, a fan asked Adele to further explain what her upcoming record will be about, and she confirmed, "Divorce, baby, divorce!"
In an Aug. 15 video with Elle, Adel further elaborated the themes of divorce on "Easy On Me." "[The lyrics] make me think about how lost I was when I left my marriage," she said. "I wrote the verse to 'Easy On Me' in the shower, then I wrote the chorus later that day."
Adele also revealed to Elle that she came up with the song's message based on advice from her friends following her breakup. "A lot of my friends throughout that rainy period of my life kept saying to me that 'You have to go easy on yourself. Don't beat yourself up too much about your decisions and you just gotta give it time,'" she said. "It just really, really stuck with me that I have to be kind to myself."
Throughout "Easy On Me," the star sings about healing. "I know there is hope in these waters but I can't bring myself to swim," she sings in the first verse. In the chorus, Adele opens about how the decisions she made. "Go easy on me, baby / I was still a child / Didn't get the chance to feel the world around me / I had no time to choose what I chose to do, so go easy on me," she sings.
In the second verse, she explores what happens when a relationship doesn't work out, despite trying hard to make it last. "There ain't no room for things to change when we are both so deeply stuck in our ways," she sings. "You can't deny how hard I have tried / I changed who I was to put you both first but now I give up."
The lyrics hit home to so many listeners, which is why the song has fans in their feelings.
You can also read Adele's "Easy On Me" lyrics in full below (via Genius).
Verse 1
There ain't no gold in this river
That I've been washin' my hands in forever
I know there is hope in these waters
But I can't bring myself to swim
When I am drowning in this silence
Baby, let me in
Chorus
Go easy on me, baby
I was still a child
Didn't get the chance to
Feel the world around me
I had no time to choose what I chose to do
So go easy on me
Verse 2
There ain't no room for things to change
When we are both so deeply stuck in our ways
You can't deny how hard I have tried
I changed who I was to put you both first
But now I give up
Chorus
Go easy on mе, baby
I was still a child
Didn't get the chance to
Feel thе world around me
Had no time to choose what I chose to do
So go easy on me
Bridge
I had good intentions
And the highest hopes
But I know right now
It probably doesn't even show
Chorus
Go easy on me, baby
I was still a child
I didn't get the chance to
Feel the world around me
I had no time to choose what I chose to do
So go easy on me
This article was originally published on