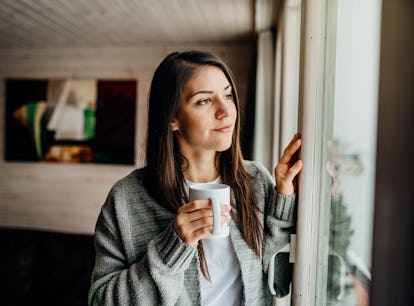 Here's Why You Can't Stop Thinking About "The One That Got Away"
Plus, how to finally let go and move on.
Shutterstock
Does the phrase "the one that got away" fill you with a bittersweet longing? Did someone's face just pop into your head? Was it your own because you have exes who refer to you as that? We all think we know what people mean when they say this, but have you ever really stopped to wonder: What is the meaning of "the one that got away," really? Is it a real thing, or just something we heard about in a Katy Perry song years ago? Is it normal or healthy to continue carrying a torch for an ex that way?
Movies, love songs, and books can leave you wondering if the concept of "the one that got away" is actually a real thing or simply a romantic notion we've been told to hold on to. Is it ever really possible to let go of someone you regret ending things with? To help answer that question, experts spoke to Elite Daily to share their take on what the phrase actually means, if it's healthy to hold on to an ex, and how to let go when you're ready (because you can move on and start fresh). Here's what they had to say.
Experts:
Dr. Gary Brown, relationship expert and licensed marriage and family therapist
Susan Winter, bestselling author and relationship expert
Stef Safran, matchmaker and founder of Stef And The City
Cherlyn Chong, breakup and dating specialist from Steps to Happyness
Irene Fehr, sex and intimacy coach
This article was originally published on