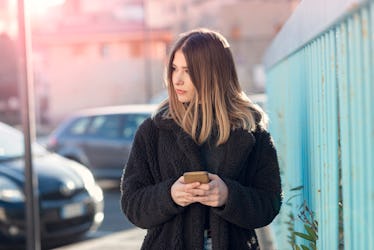 Should You Text Your Ex On Their Birthday? Experts Explain
To text or not to text? That is the question.
Francesco Carta fotografo/Moment/Getty Images
It's an age-old question, pondered for centuries by philosophers, anthropologists, dating writers, and other great thinkers. You know what I'm talking about: Should you text your ex on their birthday? Unfortunately, there isn't a one-size-fits-all answer, as it totally depends on your situation (and your current relationship with that ex). This kind of brief communication could give you some closure in the relationship, or it could simply be a friendly way to stay in touch with an ex if there are no hard feelings between you two. Harmless, right?
On the other hand, if your heart's still broken or you think you want to get back together with this person, wishing your ex a happy birthday could end up with you (or them) feeling even more hurt than before. As behavioral scientist and relationship coach Clarissa Silva tells Elite Daily, there are certain factors you should consider before you say happy birthday to an ex. According to her, the best thing you can do is place less of an emphasis on your ex and instead focus your energy on empowering yourself. Yes, it may be their birthday, but you should put yourself and your feelings first by asking yourself these hard-hitting but helpful questions.
Breakups are never easy, but it's important to remember the reasons why your relationship ended in the first place. A happy birthday text to your ex might seem innocent enough, but if it's going to slow down your recovery time or prevent you from moving on, it's probably better not to send it at all.
Sources:
Clarissa Silva, behavioral scientist and relationship coach
Samantha Burns, dating coach and author of Breaking Up & Bouncing Back
Editor's Note: This story has been updated by Elite Daily Staff.
This article was originally published on