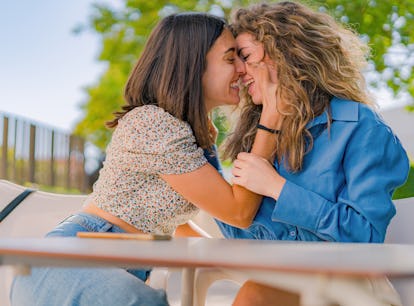 A Comprehensive List Of Dating Terms You *Need* To Know RN
Are you being kittenfished?
Daniel Garrido/Moment/Getty Images
With the rise of online dating has also come the rise of new dating terms and experiences. What we know as "catfishing" today certainly didn't exist before the internet. And have you heard of it's little sister "kittenfishing"? What is "soft launching," and is it similar to "hard launching"? The short answer is yes, but there are subtle differences, and if you're looking to debut a new partner on social media, you'll want to be in the know.
If you've ever noticed your ex stalking your Instagram (they view all of your stories and like every post) even though you don't talk anymore, there's a word for that. (Psst! It's called "haunting.") Did you know that there's a term for the opposite of "cuffing" — the artist formerly known as "cuffing season"? Well, now you do.
There are so many new terms that are part of the online dating lexicon that it's hard to keep up, and the list just keeps getting longer. To help you out, Elite Daily has created an A to Z encyclopedic list of 20 dating terms to know — from "benching" to "zombie-ing." Soon you will be an expert in online dating lingo and ready to ward off any sus behaviors you come across on the apps. Good luck out there!
Expert:
Elise Schuster, MPH, sexuality educator and co-founder of OkaySo