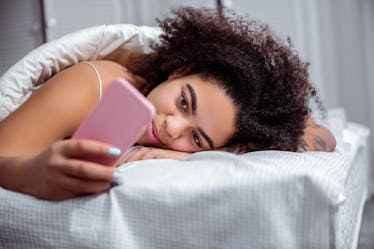 23 Relatable Memes About Getting Ghosted To Help You Laugh It Off
Shutterstock
Getting ghosted is one of the worst things ever, but unfortunately, it happens a lot. It's almost more common to get ghosted by a dating app match than to actually continue your conversation with them for any substantial length of time. That doesn't mean it's easy to handle, though — getting ghosted by someone you were really vibing with can be worse than breaking up. At least when you've decided to call it quits with someone, you usually have an idea of why things didn't work out (AKA closure). But when a potential new boo disappears into thin air just when you were getting your hopes up, the confusion can be agonizing. That's why these ghosting memes are all too real.
The sad truth is that ghosting is a pretty normal part of dating culture (looking at you, West Elm Caleb). Why can't ghosters just pony up and send a wishy-washy text about how they "aren't looking for something serious" but are "still down to hang"? But, to be fair, most daters have also been on the other side of things — when the thought of cutting someone loose just seems so daunting, and after a certain amount of time has passed, having a breakup convo just feels redundant. Thankfully, there are endless amounts of relatable memes on the topic of ghosting that are here to dry the collective tears of rejection. Better things are ahead.
No matter which way you slice it, dating someone who ends up high-tailing it out of your life at the speed of light can be utterly deflating. The "coulda, shoulda, woulda" associated with never getting closure can be brutal, but at the very least, you can be certain that if they weren't nice enough to give you the courtesy of a polite rejection, they probably weren't worth your time anyways. Sayonara!
This article was originally published on