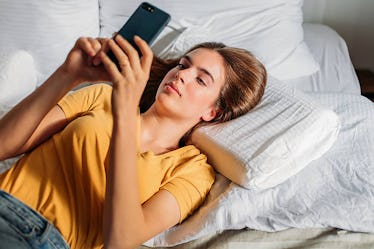 Here's What To Do When Someone Ghosts You On Dating Apps, Because UGH
If you've ever used a dating app (and let's be honest, who hasn't?), then chances are you've had the oh-so-wonderful (sarcasm!) experience of chatting with someone and starting to like them, only to have them up and disappear on you. No warning, no explanation, just gone. Ghosting is the worst, because not only is it confusing, but because there's no guidebook on what to do when someone ghosts on a dating app. Do you send them a follow-up message? Do you just shrug and get back to swiping? It's frustrating.
As annoying as it is to have someone pull a Casper on you, at least you're not alone. Julie Spira, online dating expert and author of Love in the Age of Trump: How Politics is Polarizing Relationships, tells Elite Daily that being ghosted is far from rare. "These days it's common to ghost someone you've met both on dating apps and offline," says Spira. Why it happens varies from ghost to ghost, but Spria says what it really comes down to is the abundance options and opportunities to meet people, now that ghosting has become a natural byproduct of online dating. "While the abundance of choices in matches makes it easier to chat with or meet so many more people, it's the same quantity of users that often results in disposable behavior if someone just isn't feeling it, or if they've found someone else," she says. Ugh.
While it's reassuring to know it's not just you getting the ghost treatment, it would still be really nice to know how to handle that situation — and if possible, how to avoid it in the future. Here's what Spira recommends when it comes to getting ghosted.