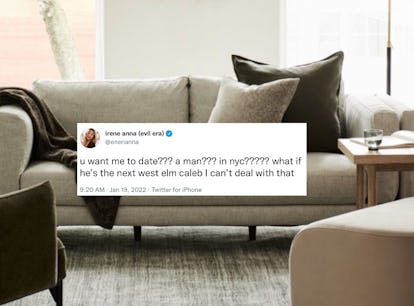 These Tweets About West Elm Caleb Will Make You Feel So Seen
Even if you haven't dated him.
West Elm + Twitter/enerianna
Step aside, Couch Guy. West Elm Caleb is TikTok's new favorite (or least favorite?) villain, and the discourse on this 6'4" furniture designer is heated. According to several TikToks, Caleb Hunter, 25, is a prolific dater in New York City, and he exhibits almost identical patterns with all of the women he dates. It's not a good habit, either. Apparently, dating Caleb goes something like this: you match on a dating app, talk for a few days, Caleb love-bombs you, and then eventually ghosts. Of course, that kind of toxic dating behavior isn't too unusual. The extraordinary part of this story is how the women managed to put two and two together in a string of viral videos, and Twitter knows it. Truly, these tweets about West Elm Caleb and the TikTok investigation he inspired are incredible.
So if the West Elm Caleb situation makes you want to cry about the perils of online dating, these tweets might be the perfect antidote. Whether they're applauding the detective work on TikTok or poking fun at Caleb's artsy job title (is he responsible for this v chic sofa?), Twitter knows how to find humor in every situation — even the toxic dating kind.
Take a break from doom-scrolling and please enjoy Twitter's best reactions to West Elm Caleb.
Who knew one f*ckboy wild dating history could unite the entire internet? BRB, exploring the feminine urge to date a furniture designer.