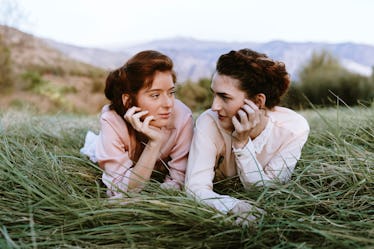 5 Sex Moves To Try With A Summer Fling That Will Bring On A Heat Wave
In my summer fantasy, strappy sandals never give me blisters and all drinks come with little umbrellas. Fashion and fruity bevs aside, summer is the perfect time to live out your fantasies — specifically, the ones between the sheets. If you've finally asked out that cute coworker or you've just starting seeing the sexy artist from your yoga class, you may be thinking of some totally hot sex moves to try with a summer fling. And don't you worry my dear, you have come to the right place.
No matter what the fall may bring, summer is a time to live in the moment and focus on having fun. And what better way to beat the summer heat than trying some new moves? Of course, sex in the summer, like sex in every season, is nothing without first discussing consent. Although getting it on can be spontaneous and zesty — it's always important to be clear that you and your boo are on the same page. Trying new moves is a great way to feel more connected to your fling, but you never want to do anything you don't feel comfortable with.
Here are six sex moves to try with your fling this summer.