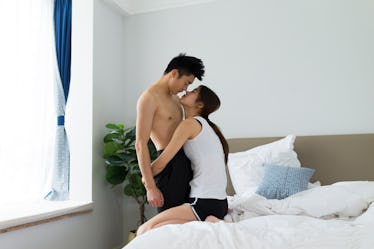 9 Women Reveal Their Favorite Sex Moves When It's Too Hot To Move
You're riding in the car with the radio up and the windows down. It seems like the perfect day. Until, of course, you realize that you're completely stuck to your seat because it is hot AF outside, and you're sweating like Niagara Falls. When the weather gets steamy, it's not always easy to feel like a hottie. Whether you've been seeing someone for a while now, or you're single and mingling all summer long — knowing your favorite sex moves when it's too hot to move can be a great way to turn up the heat when you feel like you're standing on the sun.
When you're feeling sweaty and sticky, it's not always easy to know how to feel sexy in the summer. After a long and grey winter, it can seem like everyone is dying for some sun. And yet, when the clouds part and the temperature rises like Cardi B in the music industry — getting it on can feel a little extra daunting.
Elite Daily asked nine women to share their favorite ways to stay cool when getting hot and what they said will help you and your boo beat the heat and turn up the sexy.