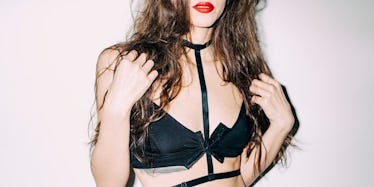 5 Things To Wear When You Have Sex If You Want To Heat Things Up In The Bedroom
William Blanton
There are only so many times I can wear my old, stained period panties and retainer to bed while still expecting to have an exciting sex life. Apparently, this look is "not hot." Who knew? However, shopping for bras and lingerie is an incredible nightmare, not to mention an expensive one.
When deciding what to wear in bed, you just need some bedroom staples — things that are fun, sexy, and edgy. You need things that won't break my bank (because this b*tch is on a budget, thank you) and things that I won't have to spend the whole day trying on and shopping for. And luckily for you, girl, I got you.
Here are some things you can wear in the bedroom when you have sex if you want to heat things up in the bedroom. And you can buy all of them online. You're welcome.
Desir Metallique Handcuffs, $16, Amazon 
If you want to go the 50 Shades of Grey route, then these delicate handcuffs that resemble bracelets are the pick for you. Not to mention, they are pretty cool looking, and I would definitely wear them outside the house for the right occasion (like a cool party, not meeting my boyfriends parents).
So if you want to practice BDSM, but handcuffs, ropes, or zip ties aren't elegant enough for you, these are basically the sports cars of bondage gear. It's what I imagine the Real Housewives of Beverly Hills or, like, the trendy, cool girls I follow on Instagram have in their nightstands. Right?
Amelia Lube Vial Necklace, $60, Unbound
Don't want to carry a container of Lube around with you everywhere you go in case you have a one-night stand? I get it. That's probably not the best look. So then why not try this lube necklace out for size?
It's pretty inconspicuous, and you'd have to be a complete pervert (or have the necklace yourself) to take one look at this piece of jewelry and assume it's filled with lube.
You can completely wow your partner by wearing this piece into the bedroom and unscrewing it during the end of foreplay to show him you're ready to move things to the next level.
ALLureLove Cupless Lingerie Lace Babydoll, $14, Amazon
Lingerie sometimes has the risk of looking trashy and/or costume-y, and this babydoll manages to do neither. To be honest, I cannot believe that this lingerie is on Amazon and only costs $14.
Beige and black are great lingerie colors (and look hot with a summer tan), and this piece even comes with a thong. Plus, the cupless top is very sexy.
Garmol Women Sexy Lingerie One Piece, $12, Amazon
Honest, Amazon kills it in the lingerie department. Who knew?
Red is another great lingerie color. This bodysuit has adjustable straps to hike up your twins, and the belt around the midsection also accentuates your waist. The different variations of lace are placed in all the right locations to create the most flattering look possible — all for under $12.
This would also go great with those gold handcuffs.
The Glamour Feather Trim Robe, $48, Amazon
OK, so this look is a lot — I know that — but I'm kind of obsessed with it. Aren't you?
This is for the confident woman who wants to branch out and harness her inner Dita Von Teese. I mean, I'm not going to lie, there is a part of me that is considering buying this right now — not even to use in the bedroom, but to just hang out around my house in.
Imagine opening the door in this when Postmates delivers your food. I cannot imagine anything more glamourous.
Buy this piece and do your own burlesque number or strip tease for your guy, or wear it on a very special occasion. Or, you can just wear it for you! This is definitely a splurge and an empowering number to add to your wardrobe.
Regardless, if you're in a sexual slump, sometimes, renewing your wardrobe a little can do the trick. And what I'm really trying to say is: Will someone please buy this for me as a present?
Check out the "Best of Elite Daily" stream in the Bustle App for more stories just like this!