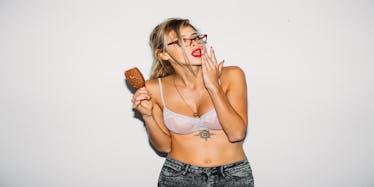 9 Sexy Pieces Of Lingerie You Should Buy To Get Freaky On Amazon Prime Day
Studio Firma/stocksy
Happy Amazon Prime Day — the greatest holiday of them all!
I went on Amazon this morning, thinking about what to buy, and then, I realized I don't really need a TV, a blender, or golf clubs. I still wanted to buy something, though, because I am a capitalist American!
Being a dating and relationships writer, I decided to see what kind of sexy stuff was on sale for Prime Day. And guess what? There is so much lingerie! A blessing from above. Thank you, Goddess!
If you know anything about lingerie, you know that it is usually pretty damn expensive. Bras cost about the same as college tuition. And if you want to buy something sexy, like a corset or teddy, and still keep it affordable, forget about it. However, Amazon Prime solved all of our problems by putting a ton of sh*t on discount today!
Here's everything you need for a complete lingerie collection, from simple thigh highs to role-playing outfits, all of which can be purchased on Amazon Prime Day today.
Sporty girls and '90s nostalgia lovers need lingerie, too.
For this bra, the lower price is available on select items, colors, and styles. But it's great in and out of the bedroom and can even be worn as a top with the right pair of mom jeans, floral skirt, or high-waisted shorts.
I can't think of a better day to splurge on #mycalvins.
If you're looking for something a little more risqué, then this is the way to go.  However, you definitely need to have perky boobs to make this bra work, as it's cup-less and offers no support.
The cupless bra and crotchless panties mean you can leave the whole number on while you and your partner fool around. So while lingerie usually comes off as quickly as you put it on, this set will give your guy a little more time to actually check you out.
And he should — look how hot you are! You bought lingerie off Amazon Prime for him!
No lingerie collection is complete without a pair of thigh highs. And these are incredibly cheap, so you can stock up on several pairs. Use them in the bedroom, out of the bedroom, for Halloween — use them for anything!
Except maybe not for job interviews...
OK, so this teddy is great looking, and it's a very good deal? Full disclosure: I am going to buy one.
It comes in black, blue, pink, red, and yellow — essentially every color that could look flattering on anyone. And the lace is still sexy, while not too revealing at the same time.
Yellow is a color you don't see that frequently in lingerie, but it really pops, so if I were you, I'd snag this up ASAP — especially at this price.
This baby comes with free returns as well.
You don't only get the bustier (which can often be really pricey), but you get the stockings as well with this deal. Plus, it's often hard to find a bustier which slenderizes you and gives you boob support, and this one offers both.
It also has the cute lace panel in the middle, which looks more elegant than it does like a Halloween costume — another problem you can run into with lingerie sometimes.
Show off your beautiful curves in some lingerie! And there's no better time to do it, because this set is 30 percent off today only.
This set is sexy and definitely revealing, and it comes with the teddy and the thong underneath.
Hey, if you've got it, flaunt it.
This truly beautiful piece is on sale today, and it also comes with free returns and a full refund, as long as you don't ship it back worn and/or covered in anything gross, obviously.
I love the embroidery, and it's totally the perfect piece to wear when a guy sleeps over for the first time.
What, me? Yes, I always go to bed in this. I am beautiful and perfect.
If you're looking to role play, then this might be the purchase for you. It's like BDSM meets costume party.
The set comes with a bodysuit, a neck collar, and a mask. It's great if you want to play... Zookeeper and naughty, escaped animal? I don't know; you make up your own scenario!
Meow!
Only because I wanted to pull a Gwyneth Paltrow and add something insanely expensive to this list, here is a $500 heart-shaped box of underwear being sold for 30 percent off today.
To be fair, Cosabella is like the Ferrari of underwear. So if you feel like splurging, or if you're a guy wanting to get your girlfriend a nice gift, this might be the perfect Amazon Prime Day present.
Now, remember, if you're a Prime member, there are literally tons of lingerie on sale today, most of which are 30 percent off, with free returns and shipping. So get to buying!
It's the perfect time to create — or add to — your sexy-time wardrobe.