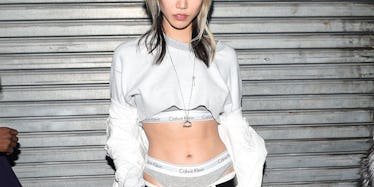 How To Rock Sexy Lingerie, Tomboy Style
Rex/Shutterstock
It's no secret I fucking love the tomboy style. I find it wildly empowering and hot, but I've never written about tomboy lingerie.
This is weird because I love the tomboy aesthetic almost as much as I love lingerie. I really like anything that's connected to sexuality and fashion, because style has always been my most honest expression of my own sexuality.
In fact, a few weeks ago, I wrote about sexier alternatives to your traditional, basic lingerie. I have a genetic predisposition to kink, so I've always been magnetically drawn to things like black leather chokers, sultry silver body chains, bondage-chic harnesses and other dangerous, salaciously sexy stuff.
But I realized tomboy lingerie, specifically, isn't something I've truly explored, and it's time, baby.
So, I enlisted the help of Anita Dolce Vita, owner, Creative Director and Editor-in-Chief of dapperQ, the popular "queer style and empowerment website specifically for masculine presenting women and trans-identified individuals."
She's a pretty kickass influencer, and also happens to be the great mastermind behind the "iD: Queer Fashion Show" (which I had the privilege of attending during New York Fashion Week).
Dolce Vita gave me some awesome pointers to help me out of my own creative style rut because, babes, I've been dry as of late. (Is anyone else feeling stuck and uninspired lately?)
Here are some of our favorite tomboy lingerie looks. Because looking sexy in the sheets is not a game just for the traditionally femme creature:
Hyper-Sexual Suspenders (Preferably With No Bra)
(Click the board above to purchase these sexy suspenders!)
Confession: I've always had a suspender fetish. Dolce Vita says you can totally use them as a garter belt. But I think it's also super sexy to rock suspenders braless.
Using suspenders as lingerie is far more imaginative and FASHION than your traditional bra. They're also sexy because they take something traditionally "masculine" and redefine it, which is what personal style is all about.
And you don't have to shy away from being a shameless label whore when picking out your suspenders, either.
I'm living for Chanel suspenders right now. I mean, isn't sexiness defined by being totally lavish and outrageous? And what's more luxe than Chanel suspenders?
Nothing. Nothing at all.
Fitted Boxer Briefs (Preferably With Nothing Else)
I recently received my first pair of TomboyX fitted boxer briefs, and I love, love, love them.
TomboyX is a super cool brand that makes incredibly comfortable, low-key sexy brief underwear.
The brand says they have an "agenda," but "it's not a gay agenda," nor is it a "feminist agenda." It's a "human agenda," which suits me perfectly (because you know I think we're all connected by our humanity).
I like my underwear to be on the same page as my ideals. It makes you walk with a little extra confidence because you're on-brand with yourself.
The briefs also have the brand's very cool logo across the waistband. I particularly love this look because I'm known for showing my undergarments (no shame in my slutty attire game), and strictly sporting mainstream labels like Calvin Klein can get old.
Exposed lingerie is what it's all about. It's way sexier than showing your typical lace undies, don't you think?
As another option, Dolce Vita recommends another sexy brand called RodeoH. I love her personal picks of their Insta-sexiness.
I'm loving those hot, muted, toned briefs, but I'm also a little distracted by that aggressive (in a good way) bondage necklace.
In fact, I think pairing briefs with a bondage necklace is very "bondage tomboy chic." Same goes for pairing them with suspenders. This, in particular, is leaving me in sexual suspense:
I'm going wild. And isn't that the point?
Not only do RodeoHs have stellar designs, they also have a hole in the front for some dildo play (which I may or may not have already expressed my love for).
They even sell dildos on their site — a tomboy lingerie accessory. And no outfit is complete without an accessory.
Sports Bras
(Click the board above to purchase these HOT AF sports bras.)
For some "andro/unisex underthings," Dolce Vita suggests mainstream lines like Calvin Klein and Tommy Hilfiger. And girl, you know I'm always down for some designer.
Regardless of our personal styles, gender identities and sexual orientations, I think we all deserve the right to be basic and rock our basic designer lines.
So indulge in that designer moment with a sports bra, you deserve it.
Alternative Garter Belts (Preferably With Nothing Else)
(Click the board above to buy these badass garter belt alternatives.)
A necktie, according to Dolce Vita, can be a very sexy alternative to your typical garter belt.
I say go hog wild and recklessly tie it around that thigh — it doesn't really need to attach to anything.
Or, you could clip it on to your underwear, traditional style. There really aren't rules, honey. That's the beauty of all this.
Bowties and/or black leather harnesses work, too. Even a skinny belt fastened around the top part of the leg can be super sexy.
I'm loving the leather garter, too. It's got a nice tomboy edge with that supple leather and massive silver, circular buckle. Oh, and the Gucci belt is sexy as a garter belt and for some gentle whipping... if you're into that sort of thing.
Tuxedo And Motorcycle Vests (Preferably With Nothing Underneath)
(Click the board above to buy these sexy as hell vests, kittens.)
OK, I've always had this fantasy in my brain of a woman wearing nothing but a tuxedo vest seducing me.
Maybe it's because I saw this picture of Ruby Rose and it stayed burned into my brain, but I have a feeling I've been dreaming these dreams since early childhood.
I mean, hot damn.
Handcuffs
(Click the board above to get your metal on.)
Lingerie doesn't have to be clothes. You can wear jewelry as lingerie, too.
You're donning yourself in silver, gold, metal and smooth textures as opposed to tired, old fabric. Plus, accessories that are provocative will provide a kinky, powerful edge to your tomboy look.
So, babes, grab some gold handcuff accessories and don't wear anything else. It will drive your partner WILD.
It's also a good idea to practice using ~real handcuffs~ for sex play when you're wearing a handcuff necklace or bracelet. (I included some real handcuffs above.)
Speaking from personal experience, when you rock handcuff accessories, your partner will expect you to know how to use 'em when you're sexing. Otherwise, your kink jewels could get accused of false advertising.
So, adorn your body with some cold, gold restraints. I don't leave the house without my handcuff necklace.
And I also like to keep it on in the bedroom (even if that's the only thing I keep on).