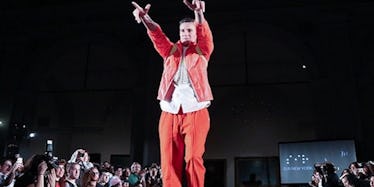 I Went To A Queer Fashion Show And It Proved Gender Is Becoming Irrelevant
Instagram TomboyX
It's no secret that there are two subjects I love with fiercer intensity than other matters in this ever-changing world: queer culture and FASHION.
I was born into a long line of boundary-breaking style queens, and I feel the most at home when I'm among my fellow risk-taking fashion freaks, the rule breakers with impeccable taste and a creative apparel palette.
But, babes, I've been fucking bored lately. I've been recklessly spending $16.50 on international fashion magazines, tearing through the pages like a rabid animal, and I'm still unsatisfied (and unable to pay my rent).
Fashion is art. Fashion dares to ask questions that are difficult, or even impossible to answer sometimes. Fashion is supposed to make you feel things viscerally. It taps into the emotional core; after all, it's art that you live inside.
And no matter how deep I search, I'm struggling to garner inspiration from a 21-year-old girl, wearing an over-calculated outfit that was "sent to her" while she sips on a Starbucks latte, in a photo that's been retouched so dramatically. She looks like a wax figurine, wearing a sponsored outfit, and capping it off with a caption that reads, "Thank you [insert brand name here] for my fun and flirty summer dress! It's so comfy!"
Call me a snob, (I own it, babe.) but that's not fashion. 
There's been a missing space, especially during New York Fashion Week, for diverse, androgynous fashion — which is why I was literally thrilled to taxi it to the Brooklyn Museum for the iD: New York Fashion Week Queer Runway Show, presented by DapperQ.
DapperQ is an innovative, stylish Instagram account and an incredibly well-curated blog. It has everything from gorgeously lit photographs of sexy, androgynous models in beautifully tailored suits to raw snapshots of individual style babes rocking casual streetwear or fierce-yet-effortless tomboy attire to empowering profiles on rebellious queer entities breaking rules and breaking hearts with their fierce individuality.
As I was ushered through the crowd, so I could get up close and personal to the runway, I was moved. Everyone in the audience looked so beautiful in a glowing way one can only look when they're staying true to their authentic, personal style.
Genuine, honest self-expression is the only way to look authentically chic. Clothes should express to the outside world everything you're feeling inside of you, even if the feelings are fleeting.
The show quickly started, and for the next hour or so, an eclectic group of models strutted down the runway wearing beautifully-tailored, custom suits to streetwear to high-fashion, couture runway pieces to streamlined attire, simple yet statement-worthy in its own way.
I watched each model own their poses, radiate their own energy and interpret each garment in a way that was unique to them.
(For amazing pictures of the show, check out the incredible coverage from TomboyX.)
What struck me most about the show was the powerful message of gender fluidity.
I completely neglected to think about gender until after the show. What I saw on stage were humans: some humans wearing suits matched with mega heels and some humans adorned in fabulous neon-yarn tops matched with skirts. The gender of the model was entirely irrelevant to the apparel.
It wasn't as simple as a female model in menswear, as fab as that is. We've all seen that before. The show was much more.
Designers Angie Chuang, Sir New York, Sharpe Suiting + NiK Kacy, Stuzo Clothing, The Tailory, Thomas Thomas and We Are Mortals featured models from all ends of the gender spectrum, wearing pieces ranging from wild, flowing skirts to posh suits to gothic kilts with black buckles.
And as I left the show, I felt a rare, hopeful feeling.
Most people don't link queer culture to fashion culture, but this show presented the idea that sexuality and gender identity are directly connected to fashion. As the late Oscar de la Renta famously said:
The great thing about fashion is that it always looks forward.
Can I get a YAS QUEEN?
The legendary de la Renta couldn't have bestowed a better description of fashion's powerful place in our culture. I think of fashion as the modern-day oracle, showing us through runway shows, mind-blowing editorials and bold street style what our future will not only look like, but what it will subsequently be like socially and politically.
Fashion, like all art, gets it before the rest of the world does. After all, Harper's Bazaar featured a black model as their cover girl in 1965, in the center of the Civil Rights Movement, when no one else would dare to. Diana Vreeland put controversial style icon Edie Sedgwick in her magazine at a time when modeling agencies wouldn't sign her because of her individuality and the fresh art she inspired at The Warhol Factory. (Fear-stricken people are terrified of art, because they know it's social power.)
Fashion has always been an accurate predicator of what our future looks like. It's been at the heart of social justice movements since the beginning of time, right there with music and movies.
So if fashion is the great predicator of social change, maybe the future of gender will be a little more fluid.
Sexuality is finally becoming a bit more accepted as fluid, rather than constricted by rigid labels. The fact that my future children might grow up in a world where they aren't forced to label something as ever-changing and complex as their sexuality makes me so deliriously happy, it actually inspires me to procreate.
And why shouldn't gender be fluid like everything else?
I'm not saying we're all going to hop from one gender to the next, but the bottom line is we should be able to freely express ourselves as masculine-presenting one day and female-presenting the next, as long as that's what makes us comfortable, babe. Because I know I feel both masculine and feminine, and some days, one is a more dominant force than the other.
And everything about me has always been ever-changing. I've been fluid in my career, my feelings, the type of person I'm attracted to and my personal style. However, I've always felt so much pressure to conform to just ONE of those things.
I've been shamed for being a self-identified lesbian with a traditionally girly aesthetic, and I have self-identified heterosexual girl friends who've been shamed for feeling more comfortable in a pinstriped pantsuit instead of a dress.
What the show presented was the true essence of the art of fashion: the art of unapologetic self-expression and the art of wearing whatever the hell you're comfortable in without being constricted by the shackles of rigid gender or sexual orientations.
It did what art is supposed to do. It broke the unimaginative rules and filled those spaces with thought-provoking, inspiring pieces.
Though it's been several days since the fashion show, I'm still high off the hope that maybe the future of gender will be totally fluid. Maybe we won't be under so much pressure to embody one gender for the rest of our lives.
I mean, don't we evolve in every way possible throughout our lives? Why is gender so different?