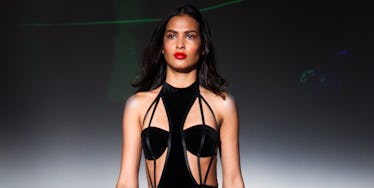 7 Sexy Things To Wear That'll Make You Feel Hotter Than Traditional Lingerie
REX/Shutterstock
I'm a mega fan of anything that is unabashedly sexy, scandalous, "slutty" and erotic.
We were all born to have sex. It's part of our animalistic instinct to be teeming with the relentless desire to seduce and ravish.
Part of being a fully realized, multifaceted, healthy person is having a sex drive. But we live in this fast-paced internet world that can make us feel so disconnected from our humanity, let alone our sexuality.
I think we're so pent-up all the time because as a culture, we're not tapped into our emotional or sexual selves enough. When I really find myself raging out over little, stupid, menial things, I realize it's because I'm not in touch with my sexuality.
This is when I know it's time to amp up the sex game.
I'm a clothes whore, so when I want to feel sexy, the first thing I usually do is buy myself an exorbitantly priced bra. But, I'm bored of bras. I'm bored of $50 bikini-cut, lace underwear, too. I'm even sick of goddamn garter belts.
Peel off a girl's clothes, and BAM: She's wearing a matching sheer bra and panties set from Bloomingdales or some other typical department store. I'll press snooze and go back to sleep, thanks.
It's exactly what you would expect, and that's lame and boring. Sexiness lies in the unexpected.
So I've been searching for ~new~ things to make me feel sexy in the bedroom. I've been looking for more unexpected things that are more salacious and complex and sexually triggering than simple lingerie.
Here is what I'm currently into that isn't just basic lingerie, babes:
1. Scandalous, bondage-inspired bodysuits
Kittens, I'm not talking about LEOTARDS. That's boring. I'm talking about bodysuits, which are vastly different than the leotards you wore to ballet class as a kid.
If you wear a cut-out or sheer black bodysuit under your simple white t-shirt or prim wrap dress, your fuck buddy is going to die from horniness when they peel off your clothes and find this sexy, bondage-chic, majorly unexpected garment hidden beneath.
2. Black (and only black) chokers
We all know chokers are trendy. Every basic bitch Instagram fashion "blogger" has been exhausting them to death.
However, when you're naked and wearing an aggressive black choker, it's a whole new ballgame. There is an added element of danger tossed into the mix. Chokers draw attention to the most low-key sexy part of a woman's body: her neck.
Oh, and the choker can be leather, lace or velvet, but it MUST be black. Pink chokers are not sexy. Black chokers are.
3. Lolita-style sheer socks
Sheer socks are naughty and Lolita-like. So if you're into role-play and kinkiness like someone I know (me), it is HOT AF.
Let your lesbian big sister explain how to be sexy in a nutshell: Take something traditionally innocent (socks), and slut it up with something traditionally scandalous (sheer fabric).
It's all about the wild juxtaposition, baby!
4. Harnesses
Oh, I love me a harness. It's like, RIDE me, baby. It's like, I'm so freaking wild that I need a harness to keep me ~tame~.
In fact, it begs your partner to try and ~tame~ you. And with your irrepressible sexual prowess, harnesses add an element of the ole' power dynamic back in the bedroom.
You can wear a harness thrown over a torn t-shirt, over a cocktail dress or even a thin one underneath your office attire. That will really throw your lover for a loop.
5. Lesbian-chic boxer briefs
I'm fully aware this could just be hot because I'm a lesbian and therefore have a genetic predisposition to enjoying men's underwear. But, I think straight girls can rock this look, too.
Androgyny is sexy. If you can wear "boyfriend jeans," you can wear "boyfriend underwear," understood? Plus, Calvin Klein's whole underwear comeback is proving that gender benders are hot AND mainstream again.
So if you're nervous, just ask yourself, "If Gigi Hadid and Kendall Jenner can do it, why can't I?"
6. Non-basic flash tattoos
Sometimes, flash tattoos can be sort of too "washed-up Coachella" to be classy, but I think if done the right way, they are super exotic and sexy.
They add a sneaky little glimmer to the surface of the dull skin. Imagine her peeling down your jeans to find a little sparkly tattoo shimmering on your hipbone. Who doesn't get turned on by sparkle? I don't want to know. Probably Trump supporters, but we don't sleep with Trump supporters anyway.
You can wear flash tattoos in hidden spots like the pelvic bone or adorn them on your legs and feet.
Because sexy can be over-the-top loud and also subtle. Don't listen to the basics who tell you sexy is exclusively one or the other. Sexy exists in the extremes. It's a tiny little bit or whole lot of it.
Otherwise, why bother?
7. Not your grandmother's granny panties
Some people say high-waisted underwear is for grandmas, but I say "pshhh" to that. It's all about wild juxtaposition, as I noted earlier.
Granny panties are traditionally innocent, and LACE is traditionally scandalous. That's what makes them unexpectedly sexy. Plus, they accentuate your waist, make your legs look as long as a gazelles and have a little bit of chic retro glam to your game.
So babes, please MESSAGE ME on Facebook and give me some non-traditional sexy looks that aren't your typical bra and panty set from Victoria's Secret.
Let's all make the world a more uniquely sexual place as a united force of girl nature.