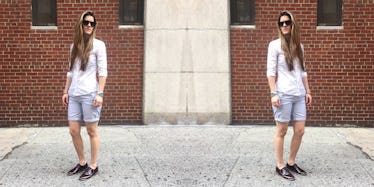 3 Looks That Reveal How Empowering Dressing Like A 'Tomboy' Truly Is
It's come to my attention tomboy fashion is sorely misunderstood and entirely misrepresented in mainstream culture.
When most people think of a "tomboy," they often think of someone who isn't at all interested in fashion, beauty or style. This, my lovelies, is simply untrue.
It's just a different aesthetic. While tomboy fashion might not be synonymous with short metallic dresses, bright red lipstick and pointed sky-high heels, it's just as stylish -- if not more so — as the stereotypically girly and outwardly glamorous fashions gracing the shiny pages of magazines.
Tomboy style is chicly discreet —it leaves us wanting more. It has an understated sex appeal, empowerment in its comfort and it allows you to move through life more freely.
I believe clothes help us channel the different sides of our personality. As the longtime Vogue editor, the great reigning queen of Fashion, Diana Vreeland, once said: "You can see and feel everything in clothes."
It's true. We simply look at the world through a different lens when we're sporting badass black boots and a blazer than we do when adorned in a mini skirt and mega platforms.
Isn't that what fashion is all about? Exploring new identities and affirming our own?
If we dare to dig past the surface, tomboy style is deeply empowering because it's revolutionary and socially groundbreaking. It's about women questioning the societal standards of beauty, challenging the patriarchal system and fiercely proclaiming we live by our own definitions of what is sexy and what is beautiful.
A girl rocking menswear, for example, is owning her power. A girl who doesn't rely on society's definition of what's "attractive" has an inherent confidence. Her beaming self-assuredness is sexier than platform heels or lipstick could ever be.
A girl in a pantsuit is actively demonstrating the complex nature of women, showing the outer-world we attain both masculine and feminine qualities (and fearlessly embody both).
So herein lies the golden question: How the f*ck do we pull it off? Fashion magazines aren't exactly detailing a surplus of tomboy fashion stories, so how do we dress like cool, empowered tomboys while still being gorgeously high fashion and on trend?
Have no fear ladies, because here are three shining examples of how to pull off tomboy chic.
 1. Tomboy Out On The Town
This is one of my favorite looks of all time: The Tomboy on the Town look. We see a plethora of "casual tomboy" attire and smatterings of "fancy tomboy" attire, but rarely do we get to see the glorious in between.
What makes this look is the sleeveless button down -- highlighting arms is just as sexy as highlighting cleavage.
Adding the red bow-tie gives the look a bit of wild nighttime humor, and the black circle hat adds the perfect touch of downtown hipster.
White doc martens are the coolest boots for summer. They keep the classic tomboy edge in order.
2. Tomboy Attends Casual-Yet-Chic Sunday Brunch
There are ways to look casual and comfortable without sporting basketball shorts and looking more like you're going to sweat it out at the gym rather than drink champagne at a civilized brunch.
This Sunday, we're off to do the latter.
Try wearing "posh" shorts (made from nice fabric, ideally pinstriped for additional chicness) with shiny oxford flats (a pointed-toe keeps will keep them modern) and a nice, crisp, button down with the shirt sleeves rolled up (very James Dean).
Add some classic black wayfarer sunglasses to stop from looking too preppy. Also, wearing your hair down and wildly flowing will keep you from looking like a LPGA golfer (it's all about balance, ladies).
3. Tomboy Kills It At Black Tie Event
 There is just something about a girl who chooses to wear slacks and a blazer to an event over the clichéd, tired, cocktail dress.
Keep it a little provocative by slightly opening the top two-to-three buttons of your dress shirt. In turn, maintain the sophisticated formality of the fancy event, by sporting a fine pair of suspenders.
Add a fedora to give it an old school vintage vibe.
If you want to add a splash of classic tomboy badassery, finish off the look with your best pair of spiked "don't-f*ck-with-me shoes" (and trust me, no one will).