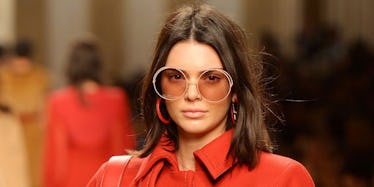 Kendall Jenner Heats Up Miami In Red Lingerie During Sexy New Photo Shoot
REX/Shutterstock
The spring season is almost here. You know what that means, right?
It means Starbucks is dropping new colorful spring cups to celebrate the warmer weather. It also means you can expect your favorite celebrities to flaunt their captivating beauty wearing almost no clothing while you're miserable at work.
Thanks a lot, Kendall Jenner.
Oh, and tulips -- spring means lots and lots of tulips!
On Sunday, Kendall Jenner worked on the set of a photo shoot in Miami where she wore sexy red lace lingerie.
There's been no word on what the photo shoot is for, but that's the very least of anyone's concerns. We can all agree Kendall in lingerie is the only thing that actually matters!
Surrounded by giant, fake tulips, the 21-year-old supermodel looked gorgeous as she lounged around on artificial grass.
Sure, there were tons of fake props, but I can assure you there was NOTHING fake about Kendall. That lingerie is very real and so are those heels.
*Shivers uncontrollably*
At one point during the photo shoot, she even wore actual clothes, but most of us chose to forget about that part!
While most of us struggle to get to the gym despite being three months into the new year, Kendall seems to have her fitness regime locked from the looks of her flawless figure. That's all thanks to her personal trainer Gunnar Peterson.
Kendall Jenner took to her app to reveal her "favorite thing to work out," saying,
I love it when my trainer, Gunnar Peterson, kills my abs. The next day, it hurts to even laugh. That's how I know I'm doing the exercises right!
Peterson spoke to Us Weekly about Kendall's intense workout routine, revealing,
People will find it hard to believe, that girl squats, dead-lifts and does pull-ups… a lot of sled-pushing, a lot of lateral banded work, up and down the track and a lot of very high-intensity cardio intervals.
Yeah, we're doing this workout thing all wrong, people. The only thing we've worked out today are our eye oblique muscles from staring at these new lingerie pics.
Citations: Kendall Jenner: Flower Child (TMZ)