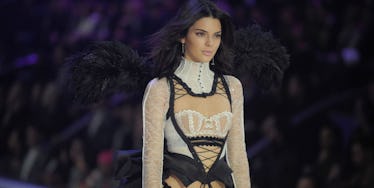 Here's Kendall Jenner's Intense Workout That Got Her Victoria's Secret-Ready
REX/Shutterstock
Kendall Jenner may have the metabolism and natural musculature of your garden-variety, 21-year-old Olympian's daughter, but that doesn't mean she didn't have to work out for this year's Victoria's Secret Fashion Show.
The annual event, which aired on CBS Monday night, featured over 50 models, but only one body type: sKiNNy AF.
Though the show comes across to some of us as a special edition of American Horror Story, models like Gigi Hadid and Kendall Jenner are willing to grind away in the months leading up to the show to make sure their already unattainable figures are in peak Angel condition come the November 30 taping.
For Kenny, this meant sweating it out with famed trainer Gunnar Peterson, who told Us Weekly the reality star committed herself to toning up "almost every day" prior to walking the runway in her first pair of wings.
He told the site,
People will find it hard to believe, that girl squats, dead-lifts and does pull-ups… a lot of sled-pushing, a lot of lateral banded work, up and down the track and a lot of very high-intensity cardio intervals.
FUN!
Despite her naturally slim figure, Kendall doesn't just loaf around all year waiting for GunGun to whip her into shape just before the VSFS.
Her sister Khloé, who recently committed herself to a life of intense wellness, admitted via her app back in November,
[Kendall's] a really good fitness partner because she's super athletic.
The 32-year-old added Kenny "doesn't do a ton of cardio but she does weights" and stays "really quiet when she works out," although "she has her dad's [Olympic gold medalist Caitlyn Jenner] body so it doesn't take a lot for her to get in shape."
"In shape" for Kendall certainly means something different than it does for the rest of us, especially this time of year.
Luckily, this year's show took a moment to emphasize the importance of fitness and health, which felt like a bit of a necessity to those watching and wondering whether this show will still be a thing when their children are born/old enough to hate their bodies for no real reason.
During the broadcast, model Martha Hunt told viewers, "It's about taking care of yourself," while fellow Angel Elsa Hosk added, "It doesn't come easy, it doesn't come natural -- you have to work for it."
A little bit of fitness and a little bit of "fuck it" is likely the ideal balance for those of us who aren't Kenny Jenny.
Citations: Kendall Jenner Trained With Gunnar Peterson Almost Every Day Before the 2016 Victoria's Secret Fashion Show (US Weekly), Vogue