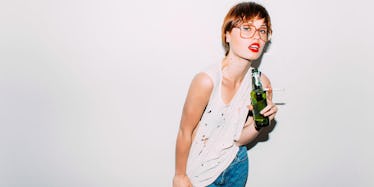 Things I Used To Think Were Sexy In My Early 20s, But Definitely Aren't
Studio Firma
I am very thankful to be in the active process of growing up, especially in terms of sex.
If people ask me if I wish I waited to have sex or that I was still a virgin, I'm like, "Hell no." In fact, I recommend everybody just get it over with so you can get to the good part.
SO MUCH of figuring out your sexuality in the beginning is faking comfortability, doing things you aren't familiar with and pretending to be somebody you're not. If only we could know then what we know now.
If I had to relive my youth and lose my virginity all over again (first of all, no thank you), the conversation with the guy would go like this:
Hello. I am a virgin, but I would not like to be a virgin anymore. I am stressed out by the pressure of having sex for the first time because I've been made to believe there is a right and wrong way to do this and that it is also my responsibility to remain attractive and sexy to you, my sex partner, at all times. In reality, I'd really like to just know what it feels like, and if it's OK with you, I'd prefer not to wear any makeup because I don't want to get it on my pillow cases. Also, just heads up, I suspect I am going to want to immediately shower and brush my teeth after. Do you mind giving me the run down on your sexual health and wearing a condom, please? I am nervous AF and would appreciate it if you didn't hold me to a standard I cannot possibly meet because, as I mentioned, I'm new to this.
In reality, no conversations happened and it all went something like this:
"Oh, baby wow yes OK um hm ouch ooh baby woah, it's over? OK, uh, see you in social studies class. Can you pass me my American Eagle low rider jeans?"
First of all, low rider jeans suck, and my butt crack was always showing. Also, why I thought the only way to be sexy was to act experienced, when we both knew I had NO idea what I was doing, was a massive waste of mental and physical energy during an otherwise very formative moment in my life.
Here are 12 other things I used to think were sexy that I've since realized are definitely NOT:
1. Playing submissive
Listen to me. You are not there to pleasure the other person and pleasure the other person alone. You are there to pleasure EACH OTHER. Don't put yourself down unless it's turning you both on.
2. Packing on the lipgloss
What a gooey, sticky, hair-ruining, impractical mess. Stick to chapstick and lip balms, and pass on the glue fest.
3. Dousing myself in vanilla-flavored anything
Unless you're into smelling like you rolled around in butter for 12 hours, this mostly just provokes weird nostalgia for Christmas or gives me headaches.
4. Thongs and other impractical underwear
I have never liked thongs. Why, on this beautiful, great, Hanes-Hipster-filled earth, would I want a sliver of fabric shoved up my butt crack?
I GET that some outfits may call for no panty lines, but in that case, I'd rather go commando than walk around with something literally shoved up my butthole.
5. Being a tease
Playing hard to get is overrated and only delays the good stuff.
If you're into somebody, pursue that, girl! If they're into you, hooray! Now, you can start making out in cars! If not, at least you know and you can get on with your life!
Jerking someone around just for the sake of it is a waste of time and energy, and it puts you into a fluid category of difficult people.
6. Lots of tongue action
More tongue does not necessarily equal more sex appeal. It DOES, however, equal more saliva flying around.
Just stick to a practical amount of tongue, given the sexual task you have at hand. A good rule is to ask yourself, "Does this scenario require more liquid?" If the answer is no, get that shit out of there.
7. Not wearing a coat out in the winter
Why — dear God WHY — would I ever think this was a sexy thing to do? Walking around in the freezing cold, without a coat, in your miniskirt doesn't make you sexier — it makes you more stupid.
Here's what's actually attractive: a healthy, responsible person who prevents themselves from getting frostbite. You can't enjoy a hookup if your whole body is numb!
8. Binge drinking to prove something
Oof, this one is something everyone needs to learn the hard way, and some people never learn it at all.
While alcohol may make you FEEL more attractive, it ACTUALLY just makes you look sloppy. Ripping shots doesn't mean you can "hold your liquor"; it just means you're wasted.
This will inevitably lower your ability to make good decisions and limit your ability to recognize a dangerous situation. Trust me, that doesn't feel sexy at all.
9. Grinding on the dance floor
Want to know what's sexy? Dancing however you damn want to dance. Shoving your butt up against some dude's crotch is weird, unnatural and, honestly, it feels like a crazy thigh/core work out that I could never sustain past one or two Beyoncé songs.
This isn't DANCING. This is literally just shoving body parts together.
10. Smoking
WHY IS THIS STILL A THING? Don't do it. You don't look cool. You look like you're trying to be cool.
11. Making out with my girl friends for attention, even though I'm not gay
First of all, it is not cool to exploit other people's sexualities as a means for attention.
Second of all, you do not exist to turn other people on.
Third of all, you do not need other people's validation to feel valuable and attractive.
12. Acting like I know anything about butt stuff
To be honest, I've never even tried to pretend I know anything about butt stuff. (And there's nothing wrong with butt stuff! If you're into it, good for you!)
But I HAVE pretended like I know what I'm doing when I don't. If you ever catch yourself in this scenario, honestly, just talk that shit out. Figure out what needs to go where and why, so you can make educated decisions and impactful moves. Focus on efficiency and pleasure and NOT on looking cool.
Oh baby, baby, it's a wild world out there.
Follow your heart, be who you are, and don't compromise on your wants and needs. And seriously, SERIOUSLY quit smoking, ya dummy.